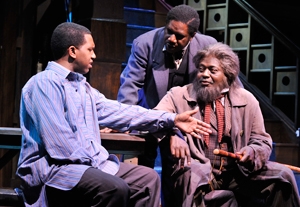 The late, great August Wilson's spirit buoys "Gem of the Ocean," the first chapter in his landmark 10-play study of the African-American experience across the 20th century. With director James O'Neil firmly at the helm and a stellar cast on board, this superlative revival catches that spirit, navigating its complexities with astonishing grace and power.
Although written later in Wilson's life and first produced in 2004, "Gem" begins the chronology of the "Pittsburgh Cycle" and its decade-by-decade trek across the 1900s, establishing themes of inequity, oppression, and sheer human resilience that recur throughout the decalogue. It is 1904, in Pittsburgh's Hill District and the household of former slave Aunt Ester (Lillias White, making a most impressive non–musical theater debut).
This spiritual healer and keeper of slave memories is both character archetype and thematic symbol, her alleged 285 years of age its own potent metaphor for what's been and what's to come. She resides with aide Eli (the ever-capable Clinton Derricks-Carroll) and Black Mary (Pamela Shaddock, in a beautifully controlled turn), the household's domestic engine and heir presumptive to Aunt Ester's ancient secrets and mystical powers.
If the coherent decency of their communal existence weren't a template for how to live, regardless of race or class—as demonstrated by the friendly relations with white peddler Rutherford Selig (Tom Mueller, exactly right)—it would be delineated as such by two opposing poles of reaction to the failures of Reconstruction. Solly Two Kings (the magnificent Anthony J. Haney), a former Union Army guide and Underground Railroad conductor, tacitly and then openly decries the lack of post-Emancipation justice: "What good is freedom if you can't do nothing with it?" District constable Caesar Wilks (Chris Butler, atop his game and then some), Black Mary's half-brother, is the embodiment of assimilative self-abnegation, to the point of vulture capitalizing his own people and overemphasizing the letter of the law.
The narrative catalyst, however, is Citizen Barlow (Keith Arthur Bolden, subtle and sure-footed), a recent émigré from the South who desperately needs Aunt Ester's "soul-washing" abilities. The intricate rigging of backstories and internecine complicities that his quest unfurls reaches a hair-raising climax in Act 2, when Citizen takes a ritual trip aboard the mythical title ship to "the City of Bones."
In its billowing magical realism and collusion of poetry and polemic, the script is less naturalistic than Wilson's other plays, which makes perfect sense in context. Director O'Neil clearly understands the delicacy needed, steering his wonderful players with a measured deliberation that ebbs and flows into flashes of pure theatrical electricity. The designs are of an atmospheric piece, from Thomas S. Giamario's exposed-structure set and evocative lighting to Marcy Froehlich's realistic costumes and David Beaudry's elemental sound.
But it's finally all about August Wilson and his splendid play. In its topical applications and ever-trenchant undercurrents, "Gem of the Ocean" looks increasingly like a masterpiece. Certainly, this mercurial, memorable reading is a company watershed.

Presented by Rubicon Theatre Company, in association with Barbara
Meister and Barber Ford, Volkswagen, Subaru & RV, at Rubicon Theatre, 1006 E. Main St., Ventura. May 24-June 10. Wed., 2 and 7 p.m.; Thu.-Fri., 8 p.m.; Sat., 2 and 8 p.m.; Sun., 2 p.m. (805) 667-2900 or www.rubicontheatre.org.