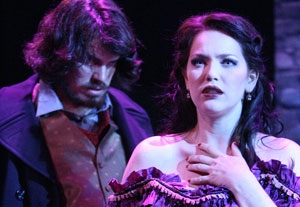 Almost as soon as Robert Louis Stevenson published "The Strange Case of Dr. Jekyll and Mr. Hyde" in 1886, the story was being adapted for dramatic presentation. By the time it became a Broadway musical in 1997, it had been covered by a long list of people, from the dashing late-19th-century English actor-manager Richard Mansfield onstage to John Barrymore, Fredric March, Spencer Tracy, and even Bugs Bunny onscreen. It's an iconic but simple tale: Dr. Henry Jekyll, in an attempt to cure the world of all evil, inadvertently creates a potion that brings out his own evil side, in the form of a man named Edward Hyde, who terrorizes London as Jekyll loses more and more control over his own body. Book writer–lyricist Leslie Bricusse inserts two female characters, composer Frank Wildhorn packs in dozens of melodramatic songs, and together they take almost three hours to tell that simple story. The clichéd music is forgettable, and the lyrics are full of uncreative, forced rhymes ("Fools! You fools!/God damn your rules!"). The cast of DOMA Theatre Co.'s production has a lot of heart, but it's hard to surmount a musical such as this one.
The set and costumes (both by Brandy Jacobs) don't improve the situation. The former belies a small budget and offers Jekyll only a cartoonish laboratory to work in, while the latter have no common theme or time period. Hair and makeup artist Paul LaMarche compounds the problems with his embarrassing, distracting wigs for the women.
Against bad odds, a few noteworthy turns somehow come across. Chris Kerrigan starts out a little stiff as Jekyll, but when he drinks the potion his performance transforms with the character. Kerrigan adopts a gravelly voice and a threatening physicality as Hyde that bring power and excitement to an otherwise sleepy first act. "Alive," sung when Hyde initially emerges, and "Confrontation," a musical battle between the two personae, are impressive. Amber Gildersleeve, as Emma, Jekyll's love interest, has a sweet singing voice appropriate for an ingénue and makes the best of her two-dimensional character. Unfortunately, Gildersleeve is the biggest wig victim of the night: Her performance might be much more captivating if her beautiful face wasn't obscured from view by garish curls.
Cassandra Nuss has a massive singing voice that lends both sultriness and vulnerability to Lucy. Her duet with Nellie (Benai Boyd), "The Girls of the Night," and her final song, "A New Life," are well performed. The role of Utterson only has a few moments of singing, but Nik Roybal adds another strong voice in the part.
The ensemble pulls off some nice vocal harmonies under Chris Raymond's musical direction, but the choreography by Angela Todaro and direction by Marco Gomez let them down. The stage looks crowded and chaotic during group numbers, and chorus members often don't have enough to do. The cast deserves credit for a strong effort, but they're working with a weak show. As Jekyll finds out, even when intentions are good, some poisons just don't have an antidote.
Presented by DOMA Theatre Co., in association with the Hope and Union Foundation, at the Met Theatre, 1089 N. Oxford Ave., L.A. July 6–29. Fri. and Sat., 8 p.m., Sun., 3 p.m. (323) 465-0693 or www.domatheatre.com.