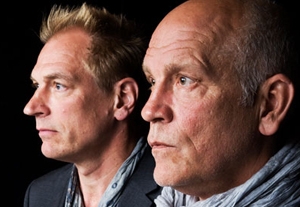 "I know the place/It is true," says actor Julian Sands at the outset (and ending) of his quietly passionate homage to Harold Pinter. "Everything we do/Corrects the space/Between death and me/And you." Those lines from Pinter's poem "I Know the Place" are the heart of Sands' limited engagement, presented as a fundraiser for the Odyssey Theatre Ensemble. As such, it's mandatory viewing for devotees of the venue, the actor, and certainly "the defining dramatist of the 20th century."
That last quotation comes from Sands, who points out that, per Lady Antonia Fraser, Pinter's widow, had Pinter "heard that accolade, he would have passed it directly on to Samuel Beckett." Before this unique combination of poetry reading, anecdotal recollection, and unabashed veneration is over, audiences might find more than one corollary between the playwrights, not to mention Sands, whom this reviewer would pay to see in either scribe's work.
First seen in Edinburgh in 2011, Sands' piece has its roots in his 2005 substitution for Pinter at a benefit at London's St. Stephen Walbrook Church, which the seriously ill author permitted on the condition that he and Sands spend time together prior rehearsing the works. The lasting impact this had on Sands is evident throughout, whether expertly deconstructing the "Pinter pause" or channeling Pinter's famous full-throttle attack, with results sometimes harrowing, often hilarious, and always affectionately authoritative.
Under John Malkovich's direction, this "Celebration" is suitably austere, drawn from Pinter's poems and essays as well as key passages from Fraser's memoir "Must I Go?," among others. The combination of Sands' easy, communicative delivery, earnest intent, and unfussy technique provides the linchpin. Although the spare, often breathtaking poems, which can recall e.e. cummings, don't always match the oblique power of Pinter's greatest plays, it's impossible to look away.
By the ending, when Sands returns to "I Know the Place," it's hard not to feel that for an hour or so Pinter's spirit has graced us with his presence, courtesy of the redoubtable artist responsible for this mesmeric tribute.
Presented by and at the Odyssey Theatre Ensemble, 2055 S. Sepulveda Blvd., L.A. April 6–8. Fri. and Sat., 8 p.m.; Sun., 5 p.m. (310) 477-2055 ext. 2 or www.odysseytheatre.com.