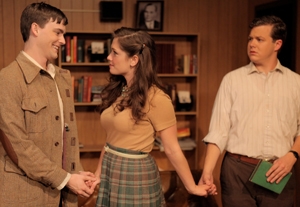 Precocious talents leaven the retro convolutions of playwright-actor Graham Bowlin's comedy about two scientific research interns after the same girl. Whether they justify attendance is a subjective proposition.
Set in New Jersey in 1965, "Laboratories of Our Youth" follows buttoned-down Harvey (Jesse Threat) and chilled-out Abe (Bowlin). Roommates since college, these diametrically opposed personalities live in the basement of a scientific institute's research antenna. Both are up for the same prestigious research grant and share a yen for Dartmouth-bound Rosemary (the proficient Alex Hensley), who is lukewarm toward Harvey and tacitly attracted to Abe, per the expository opening.
After unseen boss Dr. Nootboom (goofily voiced by Joe Flanders) asks the boys to entertain notorious homosexual Major (Ret.) Piero Le Ferla (Dustin Gooch, having a ham's holiday), Abe seizes the day. Consulting with chemist Dr. Rosenberg (Tim Lufkin) about safe phenobarbital levels, Abe schemes to knock out Harvey and their guest and get them en flagrante delicto. Complications come from the reticent Harvey, inquisitive Rosemary, and outré Johann (Travis Coles), Le Ferla's demented minion.
In theory, "Laboratories" aims for satirical farce with romantic underpinnings, after the formulaic contours of the era's commercial romps, and Bowlin has a facility for one-liners. However, there's farce and then there's sitcom, in which the situational contrivances and barn-broad targets are trapped. Certain dubious elements, whether it's an openly gay Italian veteran surviving both Mussolini and the Allies, two wildly disparate cronies staying friends in the first place, or Johann's private necromantic antics, are sketch-comedy fodder.
Director Cameron Strittmatter does his best to keep things zippy. Hensley is particularly adroit at playing straight-faced screwball action, and Gooch inhabits the major's physical limitations and flamboyance with a bravado that recalls Sid Caesar. Threat, a ringer for the young Robert Sean Leonard, drolly registers contradictory impulses, Bowlin generally lands his zingers, and Lufkin and Coles have their moments.
Yet collegiate zeal can only go so far. There's not much thematic purpose or topical point to Bowlins' post–Tim Kelly writing style, the throwback premise, or a final shift to introspection. "Laboratories" makes a decent showcase for some gifted youths, but it's a wan exercise as a play.
Presented by Joe Flanders at Flight Theatre at the Complex, 6472 Santa Monica Blvd., Hollywood. March 29–April 15.Thu. and Sun., 7:30 p.m.; Fri. and Sat., 8 p.m. (323) 960-4451 or www.plays411.com.