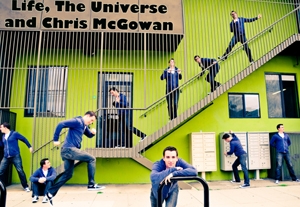 In "Life, the Universe, and Chris McGowan," his new one-man show in the Hollywood Fringe Festival, writer-raconteur McGowan discusses the moments in his life that he would revisit if he had a time machine. If we took a time machine into the future, we might see McGowan performing a more polished version of this piece, but what he has right now is a promising first effort.
The tales of teenage awkwardness and prom-night disappointments, colored with pop-culture references, are undeniably funny to listen to, but the work is still rough around the edges. McGowan's performance suffers under the influence of jitters and adrenaline, but with a deep breath and more practice he could well shine.
McGowan's biggest accomplishment is his script, which is the perfect length and uses self-deprecating humor and his knowledge of the sci-fi genre to good advantage. One story he tells is of wanting to travel back in time to prove wrong a college professor who told him not to pursue his dream of writing. There's no need for a time machine, Chris. Just email the guy a copy of your play.
Presented by Carla Snowden as part of the Hollywood Fringe Festival at Theatre of Note, 1517 N. Cahuenga Blvd., L.A. June 9–23. Remaining performances: Sat., June 16, 8 p.m.; Sat., June 23, 6:30 p.m. (323) 455-4585 or www.hollywoodfringe.org.