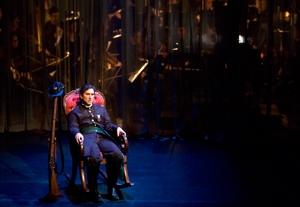 Combining his skills as a classically trained pianist, composer, actor, playwright, and producer, Hershey Felder has created a niche for himself, researching, writing, and starring in one-man shows in which he gives audiences a close-up look at such luminaries as George Gershwin, Frédéric Chopin, Ludwig van Beethoven, and Leonard Bernstein. In "Lincoln: An American Story," a co-production of Eighty Eight Entertainment and Samantha F. Voxakis, Felder portrays Dr. Charles Augustus Leale, a 23-year-old medical student who was present at Ford's Theatre on the night President Lincoln was fatally shot and stayed by his side until his death the next morning.
Indeed, seeing familiar historical events through new eyes allows us to appreciate the human side of the equation. Leale's medical descriptions are graphic and often unsettling. Theatricality is a theme explored and repeatedly returned to, whether via Leale's opening declaration "I love the theater!" or in re-creations of parts of "Our American Cousin." While at times gripping, the show must have tested director Joel Zwick's ability to keep Felder's often-disjointed script coherent. Throughout, the story falters, failing to develop tension or momentum.
Whether acting or singing, the talented Felder is blessed with a deep, expressive, theatrical voice. Conducted by Alan Heatherington, the 45-person onstage orchestra acquits itself admirably and helps to create some badly needed emotional resonance. Sterling production elements give the piece added dimension, including David Buess and Trevor Hay's scenic design, Chris Rynne's lighting, Erik Carstensen's sound, Abigail Caywood's costumes, Greg Sowizdrzal and Andrew Wilder's projections, and Pat Cain's special effects.
Felder's penchant for slyly mocking humor comes across in bits of clowning and mugging that can be at odds with a scene's tone (as during Leale's description of the Booth family). Tragic and somber, this paean to our 16th president, an obvious labor of love, tantalizes with glimpses of various historical figures and, most effectively, of Leale. Though Leale's perspective on Lincoln's assassination is often compelling,  the show strains for direction and inspiration. We need to see more of Leale's desperation and emptiness, how those bleak feelings affected his life and career, and how they were mirrored by American society. Until then, the show is best regarded as an offbeat historical take that's evolving and growing as it goes.
Presented by the Pasadena Playhouse, in association with Stephen Eich, at Pasadena Playhouse, 39 S. El Molino Ave., Pasadena. March 28–April 7. Tue.–Fri., 8 p.m.; Sat., 4 and 8 p.m.; Sun., 2 p.m. (626) 356-7529 or www.pasadenaplayhouse.org.