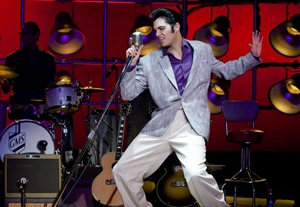 "Million Dollar Quartet," playing through May 6 at Costa Mesa's Segerstrom Center for the Arts, boasts the best premise yet for a jukebox musical. It's based on a legendary event: the Dec. 4, 1956 studio session that brought together Elvis Presley, Johnny Cash, Jerry Lee Lewis, and Carl Perkins at Sun Records in Memphis, Tenn. The combination of those four talents means that some of the world's most memorable pop songs can be included in the score. Unfortunately, the show is cursed with the same shortcomings that afflict other jukeboxers: At times the story seems like a feeble song-containment vessel.
Creators Colin Escott (book) and Floyd Mutrux (book, concept, and direction) take many liberties. They mash 18 months of history into one busy afternoon, and most of the 22 songs in the fast-moving 90-minute show were never sung at that famous session, which was devoted mainly to old bluegrass, country, and gospel songs. Escott and Mutrux wisely opt for a greatest-hits approach—"Blue Suede Shoes," Long Tall Sally," "Great Balls of Fire," "I Walk the Line"—that allows each performer to shine. The story starts with rockabilly star Carl Perkins, who came to Sun Records that day to lay down some music. Sam Phillips, founder of the small but celebrated studio, has invited a hot new talent named Jerry Lee Lewis to spice up the band. Perkins is a one-hit wonder with "Blue Suede Shoes," and Phillips is desperately seeking a follow-up. During the afternoon, Elvis Presley and Johnny Cash drop in unannounced and decide to step up to a microphone. Both men owe their careers to Phillips, who is in trouble, having been forced to sell Elvis' contract to RCA to save his struggling company. Cash is at the end of his Sun contract and doesn't plan to renew his deal with Phillips. That comes as a shock to the feisty producer, who carries a three-year agreement with Cash in his breast pocket, ready for signature.
The theme of rising stars betraying their early mentor provides just enough narrative tension to keep "Million Dollar Quartet" from devolving into a scripted revue. But such niceties won't concern most people, who undoubtedly are more interested in hearing talented young performers belt out iconic songs. This touring cast of relative unknowns does a credible job of portraying legends without getting too fussy or imitative, and some are impressive instrumentalists. Lee Ferris gives Perkins an anxious edge and an alpha dog's confidence, and his guitar playing eerily echoes Perkins' rambunctious licks. Cody Slaughter nails Elvis' slithery moves, and his voice is more than passably King-like. Martin Kaye captures Lewis' unhinged energy and over-the-top piano chops. Derek Keeling owns the kind of bottomless bass voice necessary to pull off Cash's rumbling, sepulchral sound. Kelly Lamont provides attractive window dressing and a pleasant voice as Elvis' girlfriend Dyanne. Christopher Ryan Grant conveys the mix of irascibility and charm that Phillips' friends say was the record mogul's trademark.
Bassist Chuck Zayas and drummer Billy Shaffer bang out rock-solid rhythm on a platform at the back of Derek McLane's set, which nicely captures Sun's dog-eared, slapped-together quality. "Million Dollar Quartet" isn't for those who like their musicals neatly made with story-specific songs. But it's far better crafted than it needs to be as a jukebox tuner, and it's a wonderful showcase for talented actor-musicians.
Presented by Relevant Theatricals, John Cossette Productions, American Pop Anthology, Broadway Across America, and James L. Nederlander at Segerstrom Center for the Arts, 600 Town Center Drive, Costa Mesa. April 24–May 6. Tue.–Fri., 7:30 p.m.; Sat., 2 and 7:30 p.m.; Sun., 1 and 6:30 p.m. (714) 556-2787 or www.scfta.org. Casting by Telsey + Company.