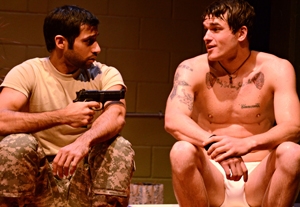 Ah, the family business. Livin' the good ol' American dream. God's bound to smile—and probably chuckle knowingly more than a few times. At least that's the premise of Leo Geter's new comedy "Naked Before God," in which the business is the adult-film industry, and the family's dreams are, well, probably a bit different from yours and mine. But maybe not. I mean, what mom wouldn't want to send her son off to his first day of work with a Baggie full of freshly sanitized dildos?
That well-intentioned mother is Kristen Burrows, a retired porn star who's desperately looking for salvation and an escape from her job at Dunkin' Donuts, and the marvelous Jennifer A. Skinner plays her as loopy, grounded, and unabashedly sexy all at the same time. Like a bunch of teenage boys, we're smitten with Kristen from the start as she prepares for her day, chain-smoking and sifting through daily calendar affirmations while hanging on every word of a Christian radio show. We meet her 19-year-old son, Duncan (Morgan McClellan, sweetly thick), and his pregnant wife, exotic dancer–turned–X-ray technician Carly (Jen Kays, an unflappable force), in the early-morning chaos of the family's tract home (scenic designer Brian Sidney Bembridge re-creates 1990s kitsch with horrifying ease). Thanks to Geter's obvious love of these characters and his hilarious offhand one-liners, there are laughs and surprises coming out of every tacky corner.
Kristen's big surprise is a plan she hit upon when meeting radio host Barry (William Salyers) at the Christian bookshop, but that's not all that's coming our way. There's Nick (Christopher Foley), a hotter-than-hot work buddy of Duncan's who perhaps wants to become more, then the unexpected special-ops arrival of Dad (Larry Clarke), home from duty in Afghanistan with a uniformed pal of his own, Octavio (Aly Mawji). Between burgers, beer, and butcher knives, we've got pool sex, military intervention, and police helicopters.
Geter also directs, and while the cast is pretty darn delightful, and the premise is a hoot, it doesn't take long to feel bombarded by the jokes and long for something real. Attempts to mine for substance in characters other than Kristen feel false, though, so in the end "Naked Before God" is a tease. We can't even replay the VHS tape.
Presented by Circle X Theatre Co. at [Inside] the Ford, 2580 Cahuenga Blvd. East, Hollywood. March 24–April 28. Thu.–Sat., 8 p.m.; Sun., 2 p.m. and 7 p.m. (323) 461-3673 or www.fordtheatres.org.