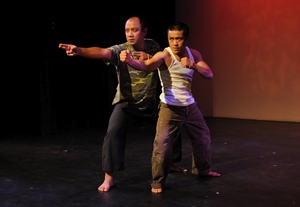 If you're like most Americans, you have probably eaten Thai food and know a thing or two about Vietnam, but the neighboring country of Laos is unfamiliar to you. The cast of the Latino Theater Company's "Refugee Nation" is quick to point this out and enthusiastic to rectify the situation. An informational night of theater, "Refugee Nation" successfully teaches about the Lao experience and entertains along the way.
Leilani Chan and Ova Saopeng created the work in 2005 and have toured the USA refining it and educating audiences ever since. Gathered from Lao-American oral histories, the play is structured as a collection of short scenes and monologues rather than as a traditional linear narrative. As the three actors transition among characters they shed light on Lao experiences, especially emphasizing the lack of understanding between members of the refugee generation, who want to forget their past, and their American-raised children, who struggle to understand their roots
Though many of the stories are tragic, the actors keep the evening uplifting and funny. The show's format and educational proclivities result in a few clichéd moments, and the proceedings sometimes feel closer to a school assembly than a play, but it's far more interesting and better performed than any school assembly I ever sat through.
The actors effectively portray a range of characters. Litdet Viravong seamlessly and hilariously transitions from hardened gang criminal to blushing teenage beauty queen. Chan is convincing both as a grieving refugee mother and as a second-generation college grad trying to connect with her community's elders. When Chan's student interacts with Saopeng's tight-lipped old man, the generational disconnect creates a palpable awkwardness.
Directors Armando Molina and Rena Heinrich deserve credit for a lively staging. The physical performances are no doubt demanding on the actors but give the show tremendous energy. Kimo Keoke's acrobatic fight choreography is precise, suspenseful, and beautiful to watch. Mia Torres' set—with beautiful Lao script, brightly colored platforms, and movable screens for video projections—provides a fun playground for the vigorous goings-on while lending a striking visual impact to the production.
Trying to cram so much history into 80 minutes inevitably leads to a few moments of cheesiness, but the effort to bring an underrepresented community to the stage in an engaging way is noteworthy. The creators of "Refugee Nation" are "Lao'd and proud," and I say more power to them.
Presented by TeAda Productions and the Latino Theater Company at the Los Angeles Theatre Center, 514 S. Spring St., L.A. June 2–24. Fri. and Sat., 8 p.m.; Sun., 3 p.m. (866) 811-4111 or www.thelatc.org.