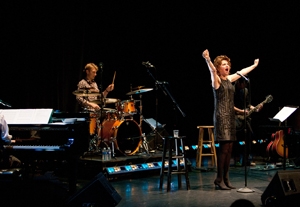 In "Sandrology," Sandra Bernhard confesses that when asked to return after her well-received appearance at REDCAT last year, her reaction was "Right. Just put together a new show." Yet when she thought further about it, she realized that she could do some of her original material, with a few changes and additions. As she puts it, "I figured if you were here last year, you were probably too fucked up to remember any of this crap anyway."
Bernhard is a mesmeric performer, part standup comic, part rock star, part comfortable old friend with whom you've always loved to hang. After a rocky start in her first song, she quickly gathers confidence and blossoms, visibly bolstered by her adoring audience's love and encouragement. She sings with more chutzpah than training, belting everything from a Bruce Springsteen standard (though not without following the words placed on a nearby music stand) to Jerry Herman's "Before the Parade Passes By," but her true gift is offering cryptic insight into our silly lives; it's Bernhard's cranky humor that makes "Sandrology" such a treat. A New Yorker now, having sold her home in the Valley ("On Blix or Kling or Klump or Hortense—one of those streets where they ran out of names"), she doesn't seem to hold much fondness for our fair city, claiming that she has come in and brought the "realness" with her. "I'm staying in Brentwood," she says, "the capital of realness."
It's funny how maturing affects us all, including this quick-witted comic, who's always been on the cutting edge. She still drops names like jacaranda blossoms in the spring and discusses her love of fashion, admitting that she wants to be around for the Rapture to collect the clothing the believers leave behind. Yet a considerable part of her act these days involves contemplating her drastically tamed domestic life. She is raising a daughter with her girlfriend, leading to routines such as the one in which Bernhard talks about what they habitually watch on television, from "Toddlers and Tiaras" to Lady Gaga's Thanksgiving special.
There's a wonderful send-up of Tyra Banks on a 6-year-old Oxygen rerun of "America's Top Model," and one of the evening's most hilarious moments is Bernhard's rendition of Gaga singing "I'm on the edge of glory/And I'm hangin' on a moment with you" over and over again—for almost eight minutes. Perhaps her most insightful revelation, however, comes when pondering pink slime, that ammonia-laced binding ingredient recently added to ground meat. "It's perfect," Bernhard believes. "Eat a burger, take a shit, and it cleans the toilet at the same time."
It would be nice if Bernhard didn't need to check every other line on notes shuffled about on that omnipresent music stand. Still, this is a work-in-progress, which becomes painfully clear when one bit featuring jokes about celebrities manufacturing scents, complete with boxes of perfume used as a visual aid, falls desperately flat. But this masterful comedian is hardly chastened. As Bernhard tosses the boxes aside, she throws out, "You wanted new. I gave you new, OK?"
Presented by and at REDCAT, 631 W. Second St., L.A. May 30–June 10. Tue.–Sat., 8 p.m.; Sun., 7 p.m. (213) 237-2800 or www.redcat.org.