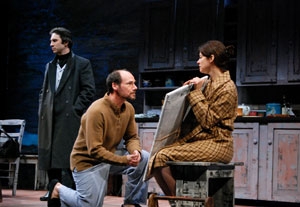 Twenty years since its premiere, "Sight Unseen," Donald Margulies' first hit, returns to South Coast Repertory, the theater company that commissioned it. This close-up view of an artist whose fame and fortune have been exacted at a terrible price still has the power to move. In his production, founding artistic director David Emmes touches upon all of Margulies' themes: the crucial roles of family and religion in forming identity, the nature and purpose of fine art, the utter subjectivity of assigning monetary value to works of art, and the scathing observation that material success can only be achieved by discarding the better angels of our natures, which proves the most powerful.
Margulies' artful script psychoanalyzes the personalities, actions, and motives of Jonathan (Gregory Sims), his college sweetheart Patricia (Nancy Bell), and Patricia's husband, Nick (Andrew Borba). The playwright generates tension through Jonathan's interactions with Patricia and Nick, both as individuals and as a couple, and with Grete (Erin Anderson), a German news reporter assigned to interview Jonathan during the opening of his first European exhibition. Margulies then dissipates that tension through terse statements that function as comedic one-liners.
Sims projects a tough-guy urban bravado and captures Jonathan's steadfast, almost stubborn refusal to offer insights into his work, wisely downplaying his character's near desperation to reconnect with the humanity he has lost. Deny as he might, Jonathan can only feel comfortable when viewed or treated as an outsider. Bell's Patricia is a welter of bitterness, wounded pride, and masochism, guarding herself from emotional hurt by holding her husband at arm's length. Sims and Bell show the intensity that still smolders between their characters, evoking poignancy with their portrayals of young Jonathan as a free spirit and young Patricia as warm, inviting, and bursting with excitement.
Using a light Scottish brogue and an ultra-civilized exterior, Borba adds nuance to a role that can veer to stereotype, expressing Nick's contempt for Jonathan's self-importance and arrogance. Nick sees through the artist's façade, recognizes his vulnerability, and exploits it. Without meaning to, Anderson's reporter pushes Jonathan's buttons, which convinces him that she's an anti-Semite. Sound designer Cricket S. Myers' freeform jazz passages and scenic designer Cameron Anderson's large, floating painted canvases resonate with the play's core concerns: the abstract nature of creativity and the frailty of emotions.

Presented by and at South Coast Repertory, 655 Town Center Dr., Costa Mesa. March 17–April 1. Tue.–Fri., 7:45 p.m.; Sat. and Sun., 2 and 7:45 p.m. (No performance Sun., April 1, 7:45 p.m.) (714) 708-5555 or www.scr.org. Casting by Joanne DeNaut.