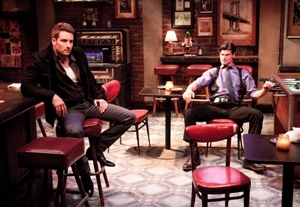 "Slow Dance in Midtown," by TV scribe Elizabeth Sarnoff ("Lost," "Deadwood," "Alcatraz"), consists of two related one-acts set in a Manhattan dive where the bartender always seems to be mysteriously absent. Both deal with the theme of acceptance and forgiveness and feature a seemingly accidental meeting between two people who share a long and complicated history.
In Act 1, two off-duty cops, Sal (Nick Stabile) and Frank (Don Swayze, bearing a startling resemblance to his late brother Patrick), come together. Sal's parents adopted Frank after his mother and father were killed, and the two grew up having a close relationship as brothers. Now they are estranged, and each seems to be nursing hostilities. Sal, who resents that Frank no longer visits his parents, wants to talk, but Frank resists his efforts. Sal reveals that his mother, Lucy, whom Frank loved, is dying of cancer, leading to a moment of emotional coming together. Things get more complicated when we learn that Frank is investigating a murder, which he suspects may have been committed by Sal or his ex-Mafioso father.
In Act 2, we meet Sal's sister, Kate (Tricia Small), who resents Maria (Meredith Scott Lynn) for stealing her husband, Joey, years before. She sets up a confrontation with Maria, which begins with sparring and mutual recriminations. Kate considers Maria a home wrecker, while Maria accuses Kate of creating the situation by throwing Joey and her together. Then Maria makes a revelation that changes the whole equation (spoiler alert): It was not Joey but Kate whom she really loved. Kate is both disconcerted and intrigued.
Sarnoff's script is clever and absorbing but sometimes a bit confusing. Both stories are deeply rooted in the past, but as none of the characters is an entirely reliable witness, it's hard to ascertain the facts. Sarnoff directs adroitly, using the slow release of information to build suspense and letting the nature of the characters emerge by degrees.
Swayze's Frank is volatile and sullen, though it's only toward the end that we learn the reason for his truculence. Stabile's Sal is touchy and short-fused when questions are raised about his family honor. Lynn makes Maria a tough New York chick, with the accent to prove it and surprisingly tender vulnerabilities, while displaying a knack for bringing down the house with throwaway lines. As Kate, Small is more enigmatic, presenting a careful façade but allowing plenty of emotion to seethe underneath.
Tom Buderwitz and Andy Hammer designed the incredibly detailed barroom set, complete with neon signs, foosball game, dartboard, and a well-stocked bar.
Presented by Bella Vista Entertainment and the Whitefire Theatre at the Whitefire Theatre, 13500 Ventura Blvd., Sherman Oaks. April 6–May 12. Thu.–Sat., 8 p.m. (800) 838-3006, (818) 990-2324, www.brownpapertickets.com, or www.slowdanceinmidtown.com.