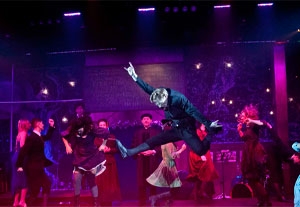 Steven Sater and Duncan Sheik's groundbreaking 2006 rock musical seems all the more remarkable when one considers that its source material—Frank Wedekind's classic German play—audaciously shattered dramatic taboos when it premiered in 1891. The startlingly frank story, incisively exploring the sexual awakening of young people in a highly repressed society, still packs a knockout punch in the modern age, and this musical adaptation is infinitely more daring than a typical Broadway tuner. Excellent touring editions have stopped in L.A., and now director Kate Sullivan helms the first locally produced rendition. She has imaginatively pared the show down for a small but sprawling stage in a fairly well-equipped 99-seat house. A capable cast of actor-singers delivers generally creditable portrayals, but the overall rendition falls short of the galvanizing experience one anticipates.
Sater's fine book melds Wedekind's original plot with a sublime contemporary score, blending rock, pop, and folk (lyrics by Sater, music by Sheik).Two actors (Kelly Lester and David Carey Foster) take all of the adult authority-figure roles, ranging from uptight schoolteachers to equally high-strung parents, adeptly illuminating the society's puritanical attitude toward sex as the grownups dangerously keep the youngsters cloaked in ignorance. This shortsighted paranoia leads to unwanted pregnancy, emotional torment, and even suicide among the youths. The explosive chemistry between Melchior (Mat Vairo) and Wendla (Lindsay Pearce) is compellingly depicted by these two actors, particularly in the extraordinary scene when this curious couple experiments with sadomasochism. There's poignancy as well as humor in Chase Williamson's' finely nuanced characterization of the troubled Moritz.
The high-energy ensemble numbers are effectively staged by choreographer Laura Harrison, though the irresistible second-act number "Totally Fucked" doesn't quite register as the showstopper that it should be. Thankfully, the anger and confusion of the teenagers comes through in some of the other big numbers, enhanced by the savvy and energetic cast and Rachael Lawrence's spirited musical direction and conducting. Stephen Gifford's superb scenic design makes good use of the compact space, and Brandon Baruch's lighting enhances the visceral excitement, though it's far less ambitious than Kevin Adams' astonishing work in the Broadway and touring editions. Jessica Lively's period costumes look authentic and are smartly conceived.
Presented by Over the Moon Productions at the Theatre of Arts Arena Stage, 1625 N. Las Palmas Ave., Hollywood. March 16–April 22. Thu.–Sun., 8 p.m. (No performance Thu., April 5.) (800) 838-3006, (310) 903-6150, www.brownpapertickets.com, or www.overthemoonproductions.virb.com. Casting by Tamara Hunter.