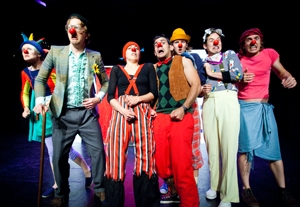 All the world loves a clown, and for the past two annual Hollywood Fringe Festivals, L.A. has loved Four Clowns, naming the troupe best physical theater and dance entry in 2010 and the coveted Top of the Fringe last year. This time out, with "That Beautiful Laugh," the quartet has become a septet, perhaps indicating that those mandatory fake red noses are cheaper to buy in quantity.
There's nothing here to ponder as these seven young performers with no physical boundaries or even a soupcon of inhibition make infectiously silly fools of themselves. The thin premise is that our friends travel from the moon, all emerging from a battered steamer trunk to help a world that has forgotten how to laugh. In the next hour of pratfalls and bare-bones gimmicks, from a shadow puppet diorama of Hollywood (complete with a cutout labeled "smog") to a contest deciding who can come onstage sporting the largest nose (the final one barely fitting through the side curtains), these folks succeed splendidly in taking the cares of the world and packing them away—along with the audience laughter they collect in a glowing mason jar. 
Presented by Four Clowns as part of the Hollywood Fringe Festival at Fringe Central Mainstage, 6209 Santa Monica Blvd., Hollywood. June 16–23. Remaining performances: Thu., June 21, 8 p.m.; Sat., June 23, 9 p.m. (323) 455-4585 or www.fourclowns.org.