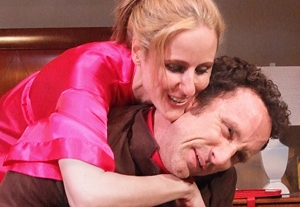 Five warring couples are at the center of Matthew Leavitt's "The Boomerang Effect," being given its world premiere at the Odyssey Theatre by producers Del Shores, Linda Toliver, and Gary Guidinger. Each pair is craftily connected to the other four and boasts a shambolic, stubbornly dysfunctional relationship. It's as though Neil Simon rediscovered his early knack for skewering contemporary affairs of the heart while being inspired to pay homage to Schnitzler's "La Ronde." However, though Leavitt has a sharply incisive sense of humor, the world has grown up a lot since people were barefoot in parks and became unwitting prisoners of Second Avenue.
All 10 actors demonstrate a keen facility with Leavitt's blistering string of wickedly contemporary one-liners. The intentionally nasal Luke McClure stands out as a 25-year-old box boy from Trader Joe's who continually reeks of weed and makes his secretly pregnant girlfriend doubt her ability to pick a mate. Liza de Weerd impresses as a woman who wakes up next to a married co-worker who's too hammered to remember how he got there. Kat Bailess is hilariously Southern as an ambitious secretary who, realizing that the big promotion offered by her horny boss in a Des Moines motel room is a sham, concocts a ballsy payback that's sure to make every woman in the audience proud. Jonathan Slavin and Emerson Collins are excellent as the play's obligatory set of gay lovers, although Leavitt should have provided an explanation for how mismatched they are.
Director Dámaso Rodriguez's spirited staging keeps things moving along briskly on John Iacovelli's Ikea-display-cubicle set, which happily morphs from one location to another without slowing things down. Nevertheless, though it shows obvious promise, Leavitt's charmingly old-fashioned script is overwhelmed by the sense that it could easily be pitched to the networks as a vehicle for Charlie Sheen, Ray Romano, or any other veteran of an old sitcom looking for work.
Presented by Del Shores, Linda Toliver, and Gary Guidinger at the Odyssey Theatre, 2055 S. Sepulveda Blvd., L.A. March 24–April 29. Thu.–Sat., 8 p.m.; Sun., 2 p.m. (No performance Sun., April 8.) (310) 477-2055, www.odysseytheatre.com, or www.boomerangeffectplay.com. Casting by Rich Delia.