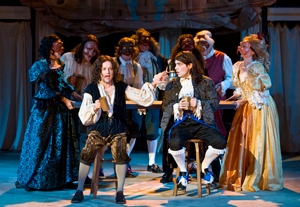 Sometimes unprepossessing plays yield hugely satisfying results, as in this buoyant revival of Molière's seldom-performed comedy "The Bungler." The 1653 study of a well-meaning dolt who serially undoes his servant's schemes on his behalf doesn't match the playwright's greatest classics, but, thanks to director Julia Rodriguez-Elliott and a deft ensemble led by JD Cullum and Michael A. Newcomer, such distinctions are academic.
Cullum plays Mascarille, the quick-witted valet to Newcomer's addled Lelie, the titular screwup, who loves beautiful Celie (Emily Kosloski), the Gypsy-deposited property of wealthy crank Trufaldin (William Dennis Hunt). Complications include Hippolyte (Kate Maher), for whom Lelie vied with well-born Leandre (Kevin Stidham) before Celie besotted both youths, and her father, Anselme (Stephen Rockwell). Pandolfe (Mitchell Edmonds), Lelie's dog-fancying father, is another obstacle, but the chief hindrance is Lelie, a nincompoop to make Homer Simpson seem like Albert Einstein.
Not for nothing is this play alternately titled "The Blunderer" and subtitled "The Counterplots." Every time Mascarille devises a new tactic, Lelie inadvertently unravels it, and to see Cullum's Mascarille go from slow-burn annoyance to imploding agitation or Newcomer's Lelie sweetly hoist himself on his own petard is to attend a master class in farcical expertise.
Their colleagues are no less hilarious and endearing, whether crooning Mascarille's irritated syllogisms to musical director David O's wittily anachronistic compositions or providing virtual rim shots from the dressing rooms upstage on designer John Iacovelli's larky, light-festooned set. Kosloski and Maher make flighty mincemeat of their contrasting ingénues, and Stidham provides arch counter to Newcomer's dimness as Lelie's rival. Company stalwarts Rockwell, Hunt, and Edmonds are perfectly suited to their roles, while Amin El Gamal has fey fun as a late-inning complication straight from Plautus. Rafael Goldstein, Claire Marie Mannle, and tuba-playing Kabin Thomas complete a roster that wouldn't be out of place at the Comédie Française.
Neither would Angela Balogh Calin's lushly goofy costumes and Ken Booth's smartly demarcated lighting, nor, indeed, director Rodriguez-Elliott, who keeps things sprightly and inventive without driving the comic pile. The narrative lags due to excessive repetition by Act 2, and Richard Wilbur's translation has its quaint, stilted aspects, yet only a buffoon would let such quibbles outweigh the unpretentious charm of this delightful diversion.
Presented by and at A Noise Within, 3352 E. Foothill Blvd., Pasadena. April 7–May 27. Schedule varies. (626) 356-3100 or www.anoisewithin.org.