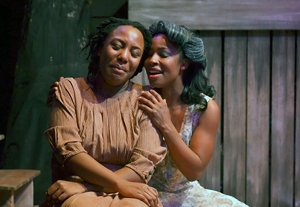 Two years ago director Michael Matthews scored a home run with his Celebration Theatre staging of Tim Acito's "The Women of Brewster Place: The Musical," a stirring paean to pride and the pursuit of happiness among oppressed African-American women. Lightning strikes anew in Matthews' inspired intimate-theater reimagining of the Broadway extravaganza "The Color Purple," which is based on Alice Walker's Pulitzer Prize–winning novel and Steven Spielberg's Oscar-nominated film. Though this adaptation of Walker's powerful and provocative tale has an overstuffed narrative and a dense score, the essence of her indelible characters and themes shines through. Matthews' lively and inventive take on the literate tuner provides rousing entertainment and plenty of food for thought while eliciting a tear or two.
This portrait of endurance amid great adversity and the resiliency of the human spirit is brought to life via Marsha Norman's engaging and intelligent book and a vibrant R&B-flavored score by Brenda Russell, Allee Willis, and Stephen Bray. The story of perpetual underdog Celie (Cesili Williams), a beleaguered teenager in 1930s Georgia, charts the longtime abuses inflicted on her by her father and the oafish Mister (Michael A. Shepperd), whom she is forced to marry. Separated from her beloved sister Nettie (Kelly M. Jenrette), Celie turns to two strong-willed women for emotional support: the feisty Sofia (Constance Jewell Lopez) and the alluring lounge singer Shug Avery (La Toya London), with whom Celie has a physical relationship.
Matthews' affecting direction does a fine job of balancing the material's abundant humor with unnerving depictions of brutality. Williams projects remarkable dignity as Celie. If in the character's big moment of defiance—the Easter dinner scene, in which she finally stands up to the despicable Mister—the actor doesn't quite capture the requisite sense of exhilarated liberation, she soars in the climactic song "I'm Here." As Mister, Shepperd commands the stage with a performance that feels at once larger than life and frighteningly real. London—who scored strongly as Nettie in a touring edition—is terrific as the sultry Shug, merging the character's saucy temptress side with her tremendous compassion. Jenrette is radiant as the ever-supportive Nettie. Lopez brings comic relief and earns strong empathy as the courageous Sofia.
Music director Gregory Nabours leads a knockout five-man combo, and Janet Roston's splendid choreography employs an impressive array of styles. The evocative designs by Stephen Gifford (sets), Naila Aladdin Sanders (costumes), and Tim Swiss (lighting) conjure a vivid sense of atmosphere in this compact performing space.
Presented by and at Celebration Theatre, 7051B Santa Monica Blvd., Hollywood. March 9–April 29. Thu.–Sat., 8 p.m.; Sun., 3 p.m. (323) 957-1884 or www.celebrationtheatre.com.