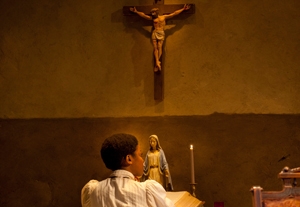 "Change is kind of a tricky business." So says Chancellor, an affably shady character who is trying his best to play every side of any coin in Danai Gurira's "The Convert," a commission of Center Theatre Group. It's 1895 in what is today Zimbabwe, and Chancellor's comment about the effects of British colonialism there is understated, to say the least. The devastating clash between Western culture and religion and African tradition and spirituality is at the heart of this masterful new work. Director Emily Mann has mounted a production that's as compelling as it is gorgeous.
From the almost sunny opening moments, we're aware that this is a play with many layers. Within Daniel Ostling's lovely diorama set, we see African Mai Tamba (Cheryl Lynn Bruce) putting her own spin on domestic duties as housekeeper for a native-born Catholic missionary, until she's interrupted by a panicked visit from family members Jekesai (Pascale Armand) and Tamba (Warner Joseph Miller). They have fled their village because Jekesai is being forced into a marriage for money. Can't Mai Tamba's God-loving boss, with the help of the Queen Victoria Native Commission, come to the rescue by hiring another girl to help out around the missionary's house? It's a simple setup that's full of somewhat deceiving humor, particularly when we meet the would-be priest Chilford (LeRoy McClain). How much do we love our lily-white Jesus, and how barbaric are the "animalistic ritualisms" of the native people?
Dressed in a long black coat and hat that make his dark skin look pale in comparison, McClain is wonderful as the well-intentioned Chilford. He immediately embraces the bright and impish Jekesai in only the most Christian of ways. Soon, his protégée gives herself over to her new identity, Ester, and recognizes the shame in her former life of pagan rituals. Many more shades between black and white are introduced, first as Jekesai's uncle (Harold Surratt) arrives in rags, pleading his case to recover her "bride price," and then with Chilford's snappily attired friends, the aforementioned Chancellor (Kevin Mambo) and his fiancée, Prudence (Zainab Jah). We learn that Chilford and this English-speaking, tea-drinking couple are derogatorily referred to by Africans as "bafu," or "white man's natives." Credit here to Paul Tazewell's detailed costumes, which do a splendid job of letting us know just what's happening to these characters as the play progresses. Lap-Chi Chu's lighting is stunning.
For this "rolling" world-premiere production (the L.A. stint follows runs at Chicago's Goodman Theatre and Princeton, N.J.'s McCarter Theatre Center), Mann has assembled an amazing cast. Each performer delivers sly surprises and knockout punches. But in the end it's Armand who takes our breath away. While "The Convert" draws a powerful picture of a specific people and their particular upheaval, the play reveals truths about larger and deeper issues, and with her distinctive voice, Gurira brings a welcome female perspective to them.
Presented by Center Theatre Group, in association with McCarter Theatre Center and Goodman Theatre, at the Kirk Douglas Theatre, 9820 Washington Blvd., Culver City. April 19–May 19. Tue.–Fri., 8 p.m.; Sat., 2 and 8 p.m.; Sun., 1 and 6:30 p.m. (No performances Sat., May 12 and 19, 2 p.m.) (213) 628-2772 or www.centertheatregroup.org. Casting by Adam Belcuore and Erika Sellin.