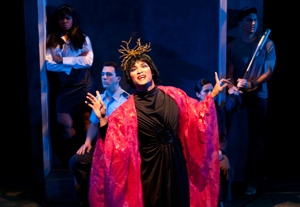 It's hard to fathom that "The Girl Most Likely To," Michael Premsrirat's epic-length play loosely based on the murder of transgendered San Francisco teenager Gwen Araujo, could be a comedy. But not only is it wickedly funny; it's a visual and sensory roller-coaster ride filled with musical numbers performed by sequined drag queens lip-synching to our best disco divas. Even if someone living under that proverbial rock doesn't know the fate of Araujo, it would be difficult to anticipate a happy ending as Premsrirat's story unfolds, but under the bold, erotically charged leadership of director Jon Lawrence Rivera, who is blessed with a gamely inspired cast and design team, all the razzle-dazzle helps cushion the final blow—figuratively and literally.
Tobit Raphael is an amazing find in the difficult title role, a lovable Filipino-American kid who insists to his traumatized mother (Fran de Leon) that he can no longer go off to high school dressed as a boy when everything in him knows he was meant to be a woman. His endearing yet ultimately tragic story is interspersed with scenes in a Manila nightclub, where local drag performer Mama Cid (Ramón de Ocampo) is wooed by a naive serviceman from Texas (Nicholas Downs) who can't come to grips with his feelings. Both Raphael and de Ocampo are riveting in a pair of incredibly brave, uniquely rich performances, without which this play could never succeed.
Downs and Eric Schulman have a difficult task playing dual roles as the story's resident haters in both places, thanklessly unsympathetic parts that each makes whole by finding subtle questioning in their characters' actions. When it's time for the entire cast to join in choreographer Giovanni Ortega's spirited dance numbers, Downs and Schulman dispense with all pretense of klutzy good ol' boy mentality. Mandela Bellamy is heartbreaking as a zaftig teenager rejected by her peers, as is de Leon as the long-suffering mother, who gave up a professional career in the Philippines to give her child a better life. Rounding out the exceptional cast are TeJay McGrath and Matthew Thompson as Mama Cid's glamorous cross-dressing backup singers, who can revolve a turntable with notable style and delicacy.
Although Premsrirat's dialogue is a bit heavy on the side of trendy topics, from Christian Louboutin to "The View" to numerous references to the "Twilight" saga, this is an auspicious debut of a knockout new play by a promising young playwright. "The Girl Most Likely To" is filled with humor, insight, and a Tennessee Williams–like gift for finding the poetic in the most unlikely places.
Presented by Playwrights' Arena and the Latino Theater Company at the Los Angeles Theatre Center, 514 S. Spring St., L.A. April 20–May 13. Thu.–Sat., 8 p.m.; Sun., 3 p.m. (866) 811-4111, www.theatermania.com, or www.thelatc.org. Casting by Raul Clayton Staggs.