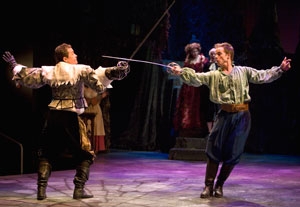 Disillusionment with life and love is the gauzy recurrent theme of Pierre Corneille's 1636 play "The Illusion," and Tony Kushner's sweepingly poetic yet jarringly contemporary reimagining of this obscure classic proves a perfect fit for A Noise Within's long-awaited new permanent playhouse. Magically risen from the ruins of a mid–20th century pharmaceutical warehouse, the austere concrete structure suddenly lifts and transforms as the audience enters the world of Keith Mitchell's fanciful three-story wooded cave set to encounter the equally verdant imagination of America's most bountiful playwright since Tennessee Williams.
Under the spare staging but sturdy guidance of director Casey Stangl, ANW stalwart Deborah Strang is a bawdy yet commanding presence as the sorceress Alcandre, sought out in her foggy forest haven by Pridamant, who as played by Nick Ullett is as befuddled and frail as Alcandre is powerful. It was an arduous journey for the nobleman, who is longing for reconciliation with his banished son, Calisto, before the old man's failing heart gives out. As Alcandre's slave Amanuensis ticks and tocks out the passage of time with his sometimes severed, sometimes reattached tongue, the conjurer summons three visions of Calisto's romantic trials. Although the names, locations, stations in life, and costumes are different with each unfolding scenario, the trio of troublesome tales depicts "mountains of dreadful metaphors" to illustrate aspects of the missing son's personality.
Graham Hamilton is a passionate presence as Calisto, able to interpret this reverent yet playful homage to Corneille while honoring the adaptation's audaciously 20th-century spin on classical verse. As all the women in Calisto's life, Devon Sorvari and Abby Craden are the perfect complement, especially the lusty, ever-conniving Craden, who possesses a unique ability to make bursts of rhyming couplets sound as modern as urban rap. Jeff Doba is powerful as the silently suffering Amanuensis, morphing into the suspicious father of one of Calisto's conquests so effortlessly that he's almost unrecognizable. Freddy Douglas, as several scorned suitors, and Alan Blumenfeld, as a sideshow Falstaff named Matamore, each ladle out a sly dollop of whimsy that only the most accomplished classically trained comedian could muster.
This could all be dated and deadly dull if were not for Kushner and Stangl's uniquely matched abilities to mesmerize us with his words and her images. As a character suggests along the rocky road to the play's clever twist of a conclusion, "My genius skips pages to grasp your meaning," something Kushner does masterfully, forcing us to engage intellectually just to keep up.
Presented by and at A Noise Within, 3352 E. Foothill Dr., Pasadena. March 17–May 19. Schedule varies. (626) 356-3100 ext. 1 or www.anoisewithin.org.