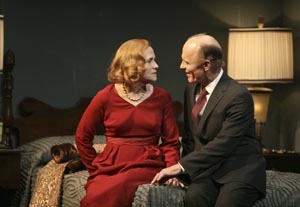 Playwright Beth Henley burst on the scene in 1979, when her Pulitzer Prize–winning "Crimes of the Heart" premiered in Louisville, Ky., introducing a promising creative voice. That compelling work walked a tightrope between poignant family-dysfunction drama and Southern Gothic farce. As Henley strove to expand her creative canvas over the years, her works often toyed with traditional dramatic conventions, yielding uneven results.
"The Jacksonian," being given its world premiere by the Geffen Playhouse under the direction of Robert Falls, combines the zany style of Southern dramedy that cemented Henley's reputation with a bleak view of unadulterated evil, seasoned with a touch of Grand Guignol. Absurdist influences reminiscent of Arthur Kopit ("Oh Dad, Poor Dad, Mamma's Hung You in the Closet and I'm Feeling So Sad") are evident, coupled with an audaciously perverse sensibility recalling David Lynch in his prime ("Twin Peaks"). A marvelous cast and moments of sidesplitting humor make for an occasionally involving 90 minutes, but the play has an unfinished feel. Character development is sketchy, the surreal elements come across as too cryptic, and Henley's ultimate points aren't clear.
Early scenes evoke memories of Alfred Hitchcock's "Psycho," probably unintentionally. The year is 1964, and at the Jacksonian, a crummy roadside motel in Jackson, Miss., we meet a creepy bartender, Fred Weber (Bill Pullman), whose morbid peculiarities include trying to impress women by sticking a knife down his throat and drawing blood. He's the prime suspect in the murder of a local woman. Claiming to be dying of a heart condition, he is leading the motel's blowsy maid Eva (Glenne Headly) into believing that they will be married. In return, the manipulative Eva, who indulges in shocking racist slurs, provides a false alibi for Fred. Meanwhile, Bill Perch (Ed Harris), a drug-addicted dentist whose practice has gone south, is staying in the motel during an estrangement from his wife, the high-strung Susan (Amy Madigan). The supposedly sanest character is the Perches' disturbed daughter Rosy (Bess Rous), who delivers occasional narration in poetic monologues.
Among the themes that Henley appears to be exploring is the far-reaching ramifications of racism in the Deep South. The emotional chaos resulting from familial strife is also a concern, as exemplified by Rosy's plight. Both of these themes are reportedly drawn from Henley's experiences growing up in Jackson. Yet one seldom gets the sense that the play's shocking gags, which lead to distinctly unfunny instances of violence and cruelty, coalesce into an intellectually digestible whole.
Thankfully, the actors warrant commendation for their committed portrayals. Pullman's Fred exudes malice from every pore, and his scenes with Headly crackle with sardonic wit. The hilarious Headly vividly plays a woman whose miserable lot in life leads her to do desperate things. Harris creates a memorable portrait of the suppressed evil lurking within an ostensibly decent family man. Madigan elicits laughter and moments of empathy as the rejected spouse. Rous' role seems more of a dramatic device than a fully fleshed-out character, but she makes us care about this emotionally strung-out victim of domestic discord.
Set designer Walt Spangler and lighting designer Daniel Ionazzi create an appropriately garish backdrop for this tale of decadence and evil. Ana Kuzmanic's costumes are equally effective. Falls and his accomplished cast provide intermittent satisfaction in a play that holds promise, but "The Jacksonian" requires substantial retooling to bring Henley's vision into focus.
Presented by and at the Geffen Playhouse, 10886 Le Conte Ave., L.A. Feb. 15–March 25. Tue.–Fri., 8 p.m.; Sat., 3 and 8 p.m.; Sun., 2 and 7 p.m. (310) 208-5454 or www.geffenplayhouse.com. Casting by Phyllis Schuringa.