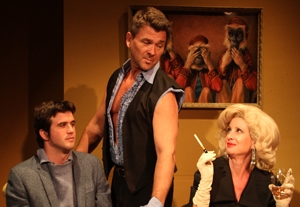 An incisive drama by Jon Robin Baitz—creator of TV's "Brothers & Sisters" and author of the recent Broadway hit "Other Desert Cities"—"The Paris Letter" examines the havoc created by a young gay man's internalized homophobia and fear of homosexuality, which lead him to a lifetime of denying his feelings and betraying those who love him.
Sandy Sonnenberg (Larry Eisenberg) is a successful Wall Street power broker, with a restaurateur wife (Julia Silverman), a stepson (Dan Sykes), and a lifelong gay best friend, Anton Kilgallen (Lloyd Pedersen), until he makes the disastrous mistake of investing his clients' money in a venture launched by Burt (Alex Parker), a young man with whom he's having a furtive liaison. When his clients' money is lost, along with his own, he's left bankrupt and publicly disgraced.
In flashbacks to the 1960s we discover that young Sandy (Sykes) and young Anton (Parker) were involved in a passionate but stormy affair. Sandy is deeply in love but doesn't want to be, as he is convinced that the gay life is lonely, unhealthy, and unproductive. His psychiatrist (Eisenberg) reinforces all his doubts and persuades him to break up with Anton. (One is reminded of the case of Tennessee Williams, who left his longtime companion Frank Merlo on his therapist's instructions.) All Sandy's later troubles are rooted in that youthful decision. He can compartmentalize casual gay sex, but he can't handle loving a man.
Baitz's script is literate, clever, and intelligent, and director Jules Aaron gives it an admirably clear and coherent production, leading us deftly through the fractured timeline. The actors face unusual challenges, as most of them play two roles.
Pedersen's witty Anton is a fine raconteur-narrator, introducing the action and filling in the details of the changing times as he nurses his thwarted love. Eisenberg capably doubles as Sandy, who chooses to embrace society's values rather than his own truths, and the meddlesome psychiatrist. It's a bit hard to believe that Parker and Sykes grow up to be Pedersen and Eisenberg, but the two actors are engaging and navigate their extended nude scene with grace and aplomb. Silverman skillfully plays both Sandy's wife and his mother.
Set designer Chris Winfield has created a handsome set that uses sliding panels to facilitate the multiple scene changes.
Presented by the Group Rep at the Lonny Chapman Theatre, 10900 Burbank Blvd., North Hollywood, July 20–Sept. 2. Fri. and Sat., 8 p.m.; Sun., 2 p.m. (818) 763-5990 or www.thegrouprep.com.