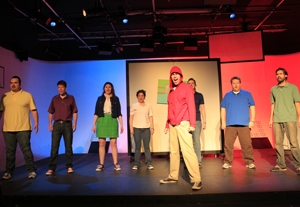 A lot of imagination has gone into "The Spidey Project: With Great Power Comes Great Responsibility," the West Coast premiere of an ultra-low-budget two-performance New York venture, one that received most of its attention because it was developed, opened, and closed before its infamous Broadway counterpart made it through several incarnations and marathon previews. What's billed as a parody of the Spider-Man musical has retained the bare-boned mantle of the source material, achieving its goal to create a little theatrical magic with whimsical cardboard set pieces painted in bold primary colors and comic-book graphics adorning the stage walls. Even the familiar cast headshots hanging in the lobby are cartoon caricatures.
There's a lot that's good about "The Spidey Project," but calling it a parody is a stretch. Instead, it's an alternate musical retelling of the legend of Spider-Man, complete with radioactive spider bites and a murdered Uncle Ben. For all of the freshness and creativity displayed in the show's design efforts, nothing about the original is skewered or lampooned, except possibly in the lyrics of Justin Moran and Jon Roufaeal. Considering how the performers' echoing vocals are lost in the rafters and further obscured by the too-loud live accompaniment, even that is hard to determine.
The actors are generally exuberant and willing to try, presumably under the leadership of director David Chrzanowski, to be suitably big and brassy in their choices, but the effort is uneven and some of the performers aren't terribly comfortable when bursting into song. Ryan J. Hill, as the soon-to-be-transformed Peter Parker, takes everything too seriously, almost as if he's trying not to be a nerd, when indeed that's the point. Repeatedly running behind a screen to change from Peter to Spidey, he dons the familiar costume only to seem smaller and slighter than before, almost like a kid ready to go trick-or-treating. Now, if Hill played his superhero as just as nerdy and clumsy as Peter, that would be a parody—and a good one.
What emerges for the audience is the enjoyment of watching a young and eager group of well-meaning performers having a darn good time. There's something quite infectious about that.
Presented by Theatre Unleashed at Studio/Stage, 520 N. Western Ave., L.A. March 8–April 14. Thu.–Sat., 8 p.m.; Sun., 7:30 p.m. (No performance Sun., April 8.) (818) 849-4039 or www.theatreunleashed.com.