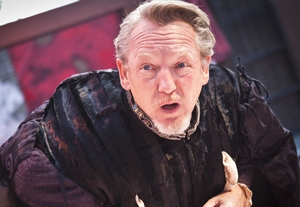 Most actors revel in playing a villain, what with the chance to create a colorful portrait, depict a deliciously entertaining enjoyment of evil, and outshine other more morally upright characters. The lead role of "The Tragedy of Richard III," one of Shakespeare's earliest plays, is a prime example. Awash in the intrigue of the Wars of the Roses, Richard, the Duke of Gloucester, schemes his way to the British throne, leaving a trail of corpses—most of which are family members—in his wake. In this finely epic outdoor staging, director Carl Reggiardo and star John Walcutt take just about the broadest interpretation of Richard possible, one that exploits the role's capacity for evil yet takes full advantage of Richard's gleeful delight in his deeds.
Richard lets us in on his dastardly machinations, inviting our complicity as well as our laughter. The latter reaction, chuckling at mayhem and misfortune, at first feels strange, but the production is so skillfully designed, directed, and acted that we rapidly become comfortable with it. Thus the physically deformed Richard, while bent on realizing his utmost villainy, is also a rakish rogue whose public smiles, grins, and laughs are as natural as his private scheming. It's a bizarre approach to a tour-de-force performance, but it works, especially in the play's later scenes, when Richard's transgressions begin to backfire and he grows unhinged.
So labyrinthine is the Bard's plotting in its attempts to detail the crisscrossing lines of the royal family that a lengthy synopsis is included in the program, along with the family trees of the Plantagenets, Lancasters, Yorks, and Tudors, from Edward III through Henry VII. While an understanding of the lines of succession is helpful, it's not vital to enjoying this production, thanks to the work of an outstanding cast. Matching Walcutt in scope is Evelyn Carol Case as Queen Elizabeth, consort and widow of King Edward IV (William Gillean), a physical wreck who expires early in the play. Case's queen is coolly calculating and always in control, using touches of theatricality to magnify her own importance and her value to England. Terri Ciranna revels in the colorful role of Margaret, the doddering queen mother. Not just a "wrinkled witch" or a "hateful, withered hag," she's a certified wacko, who in her one major scene utters a string of curses that eventually come to pass. The evening's third strong female performance is Amanda Zarr's plaintive Lady Anne Neville, whose hatred and scorn of Richard quickly melt under his withering, calculated appeals to her goodness and purity.
Mike Peebler's work as the Duke of Buckingham stands out among a raft of fine performances, an ambitious High Steward of England who hitches his star to Richard's, helping to pull strings to place him on the throne but ultimately undercut by the paranoid king when the duke balks at committing murder. As memorable are Nicholas Thurkettle's luckless George, Duke of Clarence, Franc Ross' Lord Hastings, Craig Tyrl's cold-blooded Sir James Tyrrell, Stephanie Robinson's Duchess of York, and technical director Michael Drace Fountain as one of Richard's most brutal, bloodthirsty henchmen. 
Todd P. Canedy's scene design emphasizes black, white, and red, a color scheme carried over in part by Kathryn Wilson's elegant, exquisitely rich costumes. William Georges' lighting and Peter Greathouse's fight choreography put the finishing touches on a superb staging.
Presented by Shakespeare Orange County at the Festival Amphitheatre, 12740 Main St., Garden Grove. July 20–Aug. 4. Thu.–Sat., 8:15 p.m. (714) 590-1575 or www.shakespeareoc.org.