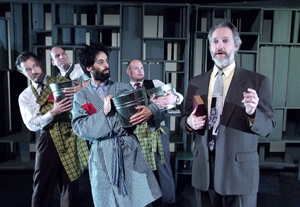 In this world premiere, two audacious theater companies join forces to create a playfully imaginative spin on "Ward 6," one of the more obscure short stories by renowned Russian writer Anton Chekhov, penned in 1892. The age-old question of who is sane—those diagnosed as such or those passing judgment on them—has often been explored, yet there's nothing about this inspired experimental endeavor that could be considered derivative or conventional.
True to the distinctive brand of dramaturgy for which Theatre Movement Bazaar is known, stylized movement, choreography, and song interludes drive the visceral production, creating a distancing effect that feels like a ramped-up variation of the concepts pioneered by Bertolt Brecht. The acting ensemble's well-honed physicality and superb characterizations and the inventive visual and aural elements are impressive, though coherent storytelling occasionally feels secondary to hyperkinetic action.
Thankfully, there's plenty of sly wit and food for thought in this wacky but incisive view of a cuckoo's nest, and Chekhov's trenchant social commentary still rings true. Credit is due to Richard Alger and Tina Kronis, who co-conceived the piece. Alger adapted Chekhov's text, while Kronis directs and choreographs. The marvelous visual designs—Jeff Webster's fluid sets, Christopher Kuhl's lighting, Ellen McCartney's costumes—impart a classical feel, though many textual references (to reality TV, SUVs, lottery tickets, and more) suggest a modern-day setting.
In a dilapidated and dysfunctional institution, longtime superintendent Dr. Ragin, who hates the sight of blood and considers perceptions of pain to be "an opinion," has become disillusioned and shows little enthusiasm for curing the patients. A severely paranoid yet highly intelligent inmate, Gromov (the terrific Mark Skeens), sparks Ragin's interest, and the doctor begins to visit him regularly. Local officials decide that Ragin is incompetent and conspire to incarcerate him. This adaptation deftly conveys Chekov's thoughtful themes of individuality versus abstract philosophies and the gross failure of governmental institutions to serve the public.
Except for Mark Doerr, who plays Ragin, the actors (Jake Eberle, Nich Kauffman, Matt Shea, Jacob Sidney, and Skeens) take multiple roles, and the versatile players excel in shifting among them. Their grace and precision in performing bits of unison business are remarkable, and they master the vanishing art of vaudevillian humor with panache. While this one-of-a-kind production isn't likely to please audiences resistant to unorthodox fare, it affords adventurous viewers a vibrant new take on the work of a literary giant.
Presented by the Theatre @ Boston Court, in collaboration with Theatre Movement Bazaar, at Boston Court Performing Arts Center, 70 N. Mentor Ave., Pasadena. Feb. 25–March 25. Thu.–Sat.., 8 p.m.; Sun., 2 p.m. (Additional performance Wed., March 21, 8 p.m.) (626) 683-6883, (866) 811-4111, www.bostoncourt.org, or www.theatermania.com. Casting by Raul Staggs.