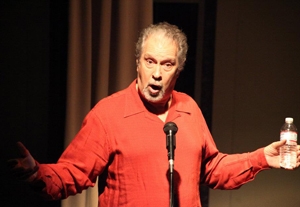 You won't recognize Bill Ratner's face, but as soon as he begins speaking in his new one-man show, "Voices in My Head: A Life," you'll know his voice. Ratner has had an illustrious career as a voiceover artist; he is the instantly recognizable voice of movie trailers, cartoon characters, and documentary narration. He proves in his show that in addition to having an expressive, baritone timbre, he is a singer, a harmonica player, and most important an engaging storyteller.
His life story is often tragic, and the show is deeply personal. In a few places the script becomes tangential to its most important themes, but with a little more development to further connect his life to his unique career, Ratner's tale has the potential to be as resonant as his vocal cords. Even as it stands, this is an entertaining (and perfectly enunciated) show featuring a funny and charming performance.
Self-presented as part of the Hollywood Fringe Festival at Complex Theatres, 6476 Santa Monica Blvd., Hollywood. June 7–23. Remaining performances: Sat. and Sun., June 16 and 17, Thu.–Sat., June 21–23, 7:30 p.m. (323) 455-4585 or www.hollywoodfringe.org.