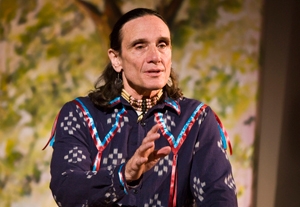 Most of us probably haven't heard these stories all that often, about the origins and people of a land the Native Americans know as Turtle Island. But whether we realize it or not, we're all very familiar with the place itself. It's the "confused and tragic reality they called America." Robert Owens-Greygrass' collection of tales circles the lives of four contemporary characters who inhabit it. The journey is led by the writer-performer as a wry modern spirit guide who has traveled through the Trail of Tears and Wounded Knee into the information age. "Walking on Turtle Island" isn't so much about characterization, however, as it is about the stories themselves. And they're told with a marvelous energy and gentle humor that's thoroughly involving.
In the first tale, of a young Lakota boy and his dog, we're brought into a world where "res talk" and elders co-exist, dreams are as real as a cup of coffee, and a boy learns the value of tears from his grandfather. An 80-year-old Ojibwe woman in Minnesota gives us a look into her childhood, a time when shiny new reservations were held out like carrots by the U.S. government. Her people had three choices: assimilation, exile, or death. Through this delicate yet weighty piece we're confronted with the universal challenge of balancing the old and the new, as well as the importance of listening to the messages of nature and assimilating the lessons of the past. Our time spent with John—a revolutionary fighter who fled a reservation in Southern Oregon and was sent to Alcatraz—is hard to grab hold of, but Owens-Greygrass then gives us another prisoner with whom we connect. This half-white, half–Lakota Sioux wakes up drunk in a Nebraska jail. With a little help from the spirits—the kind not in a bottle—he remembers that he is an Indian, a dancer, and a poet.
Director Kevin Sifuentes' simple staging brings a nice level of theatricality to the performer's fluid, personal style, and Susan Scharpf's attractive set creates a good space for storytelling. "Walking on Turtle Island" moves nicely and comfortably down a path that if not mind-blowing or groundbreaking is memorable in just the right way.
Presented by Native Voices at the Autry at the Wells Fargo Theatre, Autry National Center, 4700 Western Heritage Way, L.A. March 3–18. Thu., 8 p.m.; Sat. and Sun., 2 p.m. (323) 667-2000 ext. 354 or www.theautry.org.