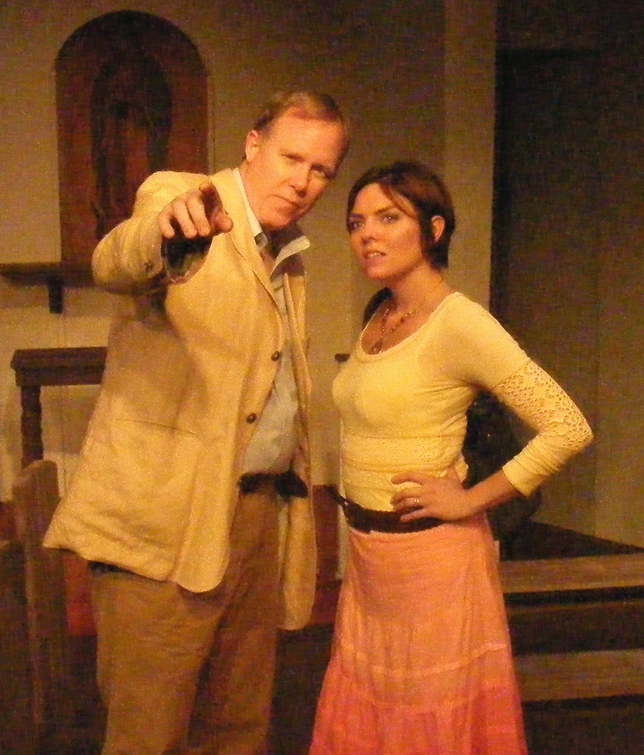 Six diverse individuals find themselves stuck together on a desolate New Mexican Indian reservation, with the possibility of nuclear disaster looming outside the doors of the austere adobe church in which they've taken shelter, in Lanford Wilson's seldom-performed 1982 play "Angels Fall." They question the fragile existence of our species in the face of imminent environmental catastrophe, something even scarier 30 years ago, when the thought of global annihilation was less of a continuous topic of discussion fueled by instant electronic communication.
Not everyone is equally concerned that an accident at a nearby uranium mine may have sent a cloud of yellow death wafting their way, even as the circling helicopters unconvincingly broadcast the news that there's no cause for alarm. For Father William Doherty (Carl J. Johnson), the local priest for whom nothing is much of a surprise, the accident is another in a line of such occurrences, as everyday as traveling many desolate miles to minister to his Navajo-speaking parishioners. His daily devotions are his life, but, as he notes when a visitor expresses an interest in sticking around for Mass, there's nothing for outsiders to see. "I step up to the altar," he admits, "and say, 'Give me the usual.' "
Still, Doherty is facing a challenge. His longtime acolyte Don Tabaha (Gabe Fonseca), whose dream since childhood has been to become a doctor administering to his isolated and neglected tribe, has decided to accept a high-paying research job instead. Also in crisis are arts professor Niles Harris and his wife (Stewart Skelton and Danielle Doyen), Vita, a former student of his, who are interrupted on their journey to a sanitarium to check him in after a classroom meltdown. They're joined by Marion Clay, the widow of a famous artist, and her not terribly bright boy toy Salvatore "Zappy" Zapalla (Penny Peyser and Michael Sanchez), who are trying to escape her late husband's lingering grasp.
"Angels Fall" is meant to be a play about personal discoveries forced upon people by what could be an impending apocalypse, but Wilson is more successful with some characters than others in offering a through line to catharsis in their lives. As Professor Harris almost surrenders to his demons, the spirit of his devoted Vita gives him cause to struggle back, while Father Doherty's heartbroken pleas to keep his protégé from giving up his goals begin to subside when reminded "You can't hold power over another man, even if it's for his own good."
Mostly exceptional and heartfelt performances, as well as August Viverito's sparse set and evocative lighting, contribute tremendously to the haunted desolation as these people confront their own worldliness, but the puzzle of "Angels Fall" is what Marion and Zappy contribute aside from being unconventional and delivering biting one-liners. Never do the May-December lovers reach an epiphany. Despite director Alex Egan's otherwise impressive staging, they are left hanging around listening, without much to say. "Angels Fall" could easily be performed with only the other four characters contemplating the death of the American dream.
Presented by the Production Company at the Lex Theatre, 6760 Lexington Ave., L.A. Nov. 23–Jan. 12. (800) 838-3006, www.brownpapertickets.com, or www.theprodco.com.
Critic's Score: B