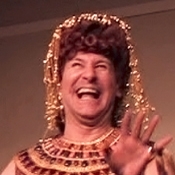 Ken Ludwig's farces (Moon Over Buffalo, Lend Me a Tenor) enjoy widespread enthusiasm from theatre companies and theatregoers alike; they are a staple that can be counted on to be audience pleasers. In this case the secret to the play's success is that the chemistry among the actors is good and that the director, Ken Salzman, lets the actors go for broke.
Two Shakespearean actors, Leo Clark (R. Christofer Sands) and Jack Gable (Tim Coultas), down on their luck, are relegated to playing Midwestern Moose Lodges while their aspirations are much grander. When they read that a wealthy widow is dying and plans to leave her fortune to two long-lost English relatives, Max and Steve, they decide to impersonate them. Unexpectedly finding out that the heirs are really Maxine and Stephanie, they don wigs and dresses and attempt to cash in.
Sands and Coultas are casting masterpieces. Their combined silliness as the hapless actors brings to mind classic performances like Ray Bolger's inspired aunt in Where's Charley? and Jack Lemmon's comic antics in Some Like It Hot. The lanky Coultas' reluctant complicity in the scam makes Sands' comic posture that much funnier.
Elaine O'B. Capogeannis is delightfully naive as Meg Snider, promised to the local minister. Frank Dooley as Meg's conniving fiancé is sufficiently stuffy to make a case for her attraction to Clark. Jen Gabbert adds punch as an überbouncy love interest for Gable.
David Calhoun's stylish set has the requisite avenues for humorous exits and entrances. Especially noteworthy are Lois Tedrow's 1950s outfits as well as Shakespearean garb for Sands and Coultas. Sands' elegant auburn wig and Coultas' curly mop put the frosting on the cake.
As farces generally have no political or social agenda, what you take from them is hearty enjoyment and an appreciation for skilled acting and comic timing. The Sierra Madre players deliver that with gusto.
Presented by and at the Sierra Madre Playhouse,
87 W. Sierra Madre Blvd., Sierra Madre.
Fri.-Sat. 8 p.m., Sun. 2:30 p.m. Jan. 11-Feb. 23.
(626) 256-3809. www.sierramadreplayhouse.org.