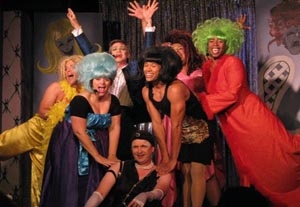 This "Drag Queen Romantic Comedy Musical," written and directed by David LeBarron, with songs by Abby Travis, was conceived as a tribute to drag divas Misty Cologne and Sabrah Summers, who died in 2004. Its message is a plea for respect and recognition for drag performers, as human beings and artists. There's no denying LeBarron's sincerity, but the results can verge on the soap-operatic.
The plot is launched by the death of (fictional) drag diva extraordinaire Cherise, who was the founder and star of a drag show she led in her own theater. Cherise's company is devastated by grief and loss, and by the hostility of his mother, Betty (played with startling conviction by Gordon Vandenberg), who hates and distrusts homosexuals in general and drag queens in particular. She has barred drag attire at the funeral and sold the theater.
George (Jeffrey Wylie), the most grief-stricken of the queens, is determined to keep Cherise's theater going, assisted by his lover, Joe (Happi Price). But there's emotional turmoil in the ranks. Philip (Jeremy Lucas), a straight guy who's making his living as a drag performer, falls in love with Jan (Yolanda A. Banos); but her mother, Teresa (Antoinette Senatore), is hell-bent on dissuading her from marrying a drag artist. Billy (Tony Melson) is gay, but his lover, Ramon (DT Matias), objects to his appearing in female attire and severs their relations when Billy refuses to give up performing. (At this point it's a foregone conclusion that Ramon will appear in drag by show's end.)
Many of the songs, pitched as numbers in the drag show, range from undersea fantasies to tributes to various diva deities, from Liza Minnelli and Joan Crawford to Hillary Clinton, graced with exotic fantasy costumes by Christy M. Hauptman, and choreography by Shanna Beauchamp on Bill Cole's handsome mock-glamorous set.
It's a harum-scarum show, but all the actors have their moments, including Nabor Arias as hefty queen Juan. Lucas has sharp musical comedy skills, though he's not a great drag queen. Banos provides appealing romantic interest, and Price is an able eccentric comedian.
Presented by and at the Ruby Theatre at the Complex, 6476 Santa Monica Blvd., Hollywood. June 5–July 5. Fri.–Sat., 8 p.m.; Sun., 2 p.m.
www.littleblackveil.com.