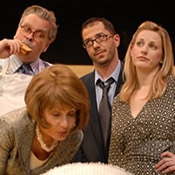 Like Christopher Durang's contemporaneous but more satirical Baby With the Bathwater, the seriocomic 1986 play by Ted Tally takes a look at a couple who faces impending parenthood. Tally uses us as friends, visiting the home of Ben (Andrew Vonderschmitt) and Joanie (Erinn Koch), which allows the pair to break the fourth wall. Director Gregory Cohen augments this effect: Vonderschmitt roams the stage and moves up and down the aisles before the show, chatting up Playhouse patrons.
Act 1 establishes a low-key tone of casual humor while setting up the dynamic that will eventually drive the couple apart: Ben is a smart-ass lapsed Jew who works a low-level job in TV sports promotion and who, Joanie maintains, has been "punishing [her] for getting pregnant." He's busier "yakking and daydreaming," she tells us, than helping prepare for the baby's arrival, while failing to see that the child represents the most momentous event of their eight-year marriage. Ben, meanwhile, resents Joanie's dabbling in various careers while flirting with but not seriously pursuing her art career. He suffers anxiety attacks while privately admitting his apprehensions about the arrival of a third member of the family, summed up in a fantasy horror-parody sequence that culminates in Ben's screaming, "My son is an eyeball!"
Cohen and company well establish the tension brewing in this marriage, as the bittersweet Act 2 unfolds on the day of baby Daniel's christening, Ben having split a month before his birth and the couple planning to divorce. Vonderschmitt credibly moves from selfish asshole to contrite, reluctantly willing papa. Koch presents Joanie's sweet faรงade and her seemingly antithetical principled, practical, determined side. Diana Mann and Cort Huckabone are fine as her flustered folks. But it's the two leads who underscore Tally's definition of any couple expecting their first baby: "the unprepared attempting the impossible for the sake of the ungrateful."
Presented by and at the Long Beach Playhouse,
5021 E. Anaheim St., Long Beach.
Fri.-Sat. 8 p.m. (Also Sun. 2 p.m. Feb. 3, 10 & 24). Jan. 26-Mar. 1.
(562) 494-1014. www.lbph.com.