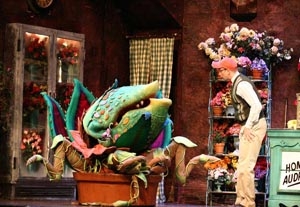 There are flashes of—gasp—genuine heart in Alan Menken and Howard Ashman's popular musical spoof of cheesy horror films. Yet, real human emotion—as well as fleeting moments of suspense—must take a back seat to tongue-in-cheek zaniness, the essential ingredient in making this mock-horror story take flight. Musical Theatre West's ambitious and technically impressive rendition, featuring rented design elements from the 2003 Broadway revival, looks good but misses too much of this vehicle's satiric bite.
The story of a mysterious man-eating plant that turns a cash-strapped Skid Row floral shop into a cash cow, based on a low-budget 1960 Roger Corman film starring Jack Nicholson, is a loopy morality tale on the evils of greed. Coming closest to capturing the requisite over-the-top style is Danny Gurwin as geeky shop clerk Seymour, whose green thumb gets him much more than he bargained for. Gurwin's portrayal mostly finds the right balance between bungling nebbish and unlikely hero. A solid singer, he captures a lot of the ironic humor in Ashman's witty lyrics. Lowe Taylor seems on the right track as his love interest, the self-esteem-challenged Audrey, but Taylor needs to ramp up her performance a few notches. More often melancholy than amusing, she misses the layer of satiric commentary needed for the role. This lack is particularly evident in the wistful "Somewhere That's Green," intended as a sardonically hilarious glimpse at 1950s picket-fence suburbia. Stuart Pankin is more frenetic than funny as crotchety Jewish shopkeeper Mr. Mushnik.
Peter Paige plays a variety of broadly-etched walk-on roles capably, though his biggest part—the sadistic biker dentist—would benefit from more scenery-chewing gusto. Michael A. Shepperd's boisterous characterization, as the voice of monstrous plant Audrey II, is more on-target. As the warbling Greek chorus of neighborhood urchins, by way of the Supremes. Fredericka Meek, Kamilah Marshall, and Meloney Collins lack the needed pizzazz. Daniel Thomas' music direction is capable, and DJ Gray's choreography is satisfactory.
Director Steven Glaudini's production might benefit from a dose of the laughing gas used by the demented dentist—something to jump-start this enterprise and make it the funhouse ride that we expect.
Presented by Musical Theatre West at the Carpenter Performing Arts Center, 6200 Atherton St., Long Beach. July 11–26. Thu.–Fri., 8 p.m.; Sat., 2 and 8 p.m.; Sun., 2 p.m. (Additional performance Sun., 7 p.m., July 19.)  (562) 856-1999, ext. 4. www.musical.org.