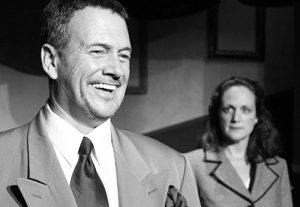 This comedy with music is set in 1940s Hollywood at Radioland Studios during the live broadcast of a suspense drama called "Night Stories." Various feuding film celebrities have been cast in the show, including womanizing matinee idol Jerry Berrymore (Charles Hoyes), his ex-wife Patty Nelson (Katie Zeiner), and the air-headed blond starlet who is his current squeeze (Katy Jacoby). Meanwhile, an escaped serial killer is at large in Tinseltown; inevitably he will turn up to wreak havoc. The events are punctuated with musical numbers performed by the faux-innocent Baker Triplets (Peter Newman, Shelly Hacco, and Hailey Ellen Quinn), among others.
This is the kind of threadbare old-fashioned farce that relies on obvious, over-familiar plot lines and clichéd characters. Writer-directors Ryan Paul James and Denny Siegel were apparently aiming for a witty blend of satire and nostalgia, but neither characters nor period are acutely observed enough to qualify. And the jokes and repartee are too lame to be called wit.
Many members of the large cast seem superior to their material. Bruce Barker puts his extensive radio experience to good use as Brucie B, the announcer on "Night Stories," and Melissa Disney scores as an actress who's supposedly dating Rock Hudson, though most of his attention is reserved for his assistant Roger. Zeiner brings enough presence and dignity to her absurd role that one wishes she had better dialogue. And Jacoby uses character eccentricities to flesh out sketchy writing.
Presented by the 68 Cent Crew Theatre Company at Theatre 68, 5419 Sunset Blvd., Hollywood.
Sept. 4–Oct. 17. Fri.–Sat., 8 p.m.
(323) 467-6688. www.theatre68.com.