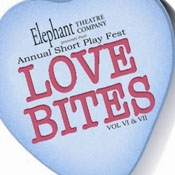 The Elephant Theatre Company hits the comedic bull's-eye with an evening of short plays on the travails and occasional triumphs of romance. With a cast of nearly 30 performers -- all supremely gifted -- a talented cadre of directors, and lots of sparkling, penetrating writing, this is an evening not to be missed by even the most hopelessly romantic theatregoer.
The delights in this show begin with a lustful mating dance of whales, featuring Jacques Cousteau as a Peeping Tom, and end with a deadpan send-up of film noir one-liners. Each of the dozen short plays is not only drop-dead funny but also shot through with serious subtext and theme.
Inconvenient Desire, written by Kerry Carney, is a very funny comment on roommate love triangles. Bluff, by Tony Foster, reaches almost metaphysical heights in deconstructing loneliness and isolation. Billye and Sasha, by Tim McNeil, chronicles an old lady and her cat with poignant hilarity, and Pasta and Love, by David Franco, is a riotous rendition of romantic role-playing. The Ascent, by Jon Caren, explores universal longing and lust at 30,000 feet, and I Love the Gays, by Louis Jacobs, demonstrates how far most straight men won't go to get a date.
Among the best performances in this outstanding evening, Josh Breeding is superbly understated as a lovelorn roommate, Carney is inspired as the inner voice of an airplane passenger, Cheryl Huggins and Brendan Connor are sheer brilliance as the couple aiming to put a bit of spice in their love life, Tara Norris and Max Williams are powerful and uproarious in the visionary tale of a nighttime visitor, and Alexandra Hoover and Jacobs are perfect as the refugees from 1930s film noir. Also wonderful are Megan Boone, Larvell Hood, Anthony Roman, and Mike Friedman. Directing kudos to Franco, Amy French, David Fofi, Christopher Game, Tom Stanczyk, and Lindsay Allbaugh.
Presented by and at the Elephant Space Theatre,
6322 Santa Monica Blvd., Hollywood.
Thu.-Sat. 8 p.m. Feb. 14-Mar. 8.
(323) 960-4410. www.plays411.com/lovebites.