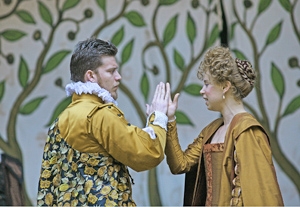 There's hope yet for this upstart troupe and promising playwright. In this version by the legendary Shakespeare's Globe, on a U.S. tour from London, the bard's comedy of ill-considered pacts and instant attraction gets a spectacular production. The audience is instantly welcomed and kept in the show's embrace throughout. The characters mix with us, the house lights remain on for the duration of the play, and aisles are filled with parading musicians and striding hunters.
Under the direction of Dominic Dromgoole, who paints with elegance and scholarly attention to text, characters enter and more particularly exit with purpose and the occasional flourish. Never merely walking off stage in obeisance to the stage directions, they flee, they sulk, they hide, they flirt. Designed by Jonathan Fensom, the visuals are warm and inviting. The palette is primarily creams and rusts, accented by costumes for the upper classes in metallic colors, for the academics in black, and for the bottom class in creamy muslins. Claire van Kampen composed the music, beautifully integrated with the rest of the work.
These actors, whether playing leads or offering a line or two, respect and adore their words and each letter thereof. Playing Costard, the low-status buffoon, Fergal McElherron is a practiced hand at commedia. Michelle Terry is an attractive pepper-pot Princess of France. Trystan Gravelle is a strong romantic as Berowne. William Mannering brings hilarity and appeal to Longaville. As Sir Nathaniel, Patrick Godfrey gives a deliberate, lovely reading of the letter. Rhiannon Oliver is remarkably present and fully engaged in her every moment as a lusty Jaquenetta. Christopher Godwin makes a pompous but not unkind Holofernes. Listening to these actors is an almost religious experience, reverential and uplifting. Their use of breath is a lesson in itself. But the actors are given every assistance in being perfect: The program reflects input from coaches on text, movement, and voice.
If you can't catch this production at its current locale, please look for it at a theater near you. It's a worthy lesson on bringing Shakespeare to vivid life.

Presented by Shakespeare's Globe Theatre at and in association with the Broad Stage, 1310 11th St., Santa Monica. Nov. 20–29. Mon., 7:30 p.m.; Fri., 1 and 7:30 p.m.; Sat., 2 and 7:30 p.m. (Also Sun., 1 p.m., Nov. 22 and 2 p.m., Nov. 29.)(310) 434-3200. www.thebroadstage.com.