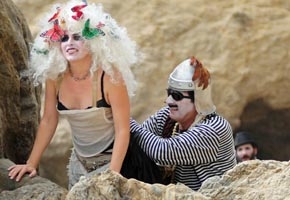 A
black-and-white film and a black-and-white stage set (notwithstanding a mound of green grass) are connected with a long scarlet ribbon—a bloodline between life and imagination, between cinema and theatre. Writer-performer Randy Sean Schulman certainly creates awe-inspiring metaphor in this "silent" play with music. A shipwreck tosses Luminous (Schulman) and his beloved Tangerine (Delcie Adams) on a rocky shore (filmed at Malibu's El Matador Beach). Luminous discovers a membrane that seems to let him penetrate his mind—and climb onto the stage in a live performance. Is he alert and consciously examining his thoughts, or is he hallucinating? We watch the frolicking and terror on the film, as the lovers are separated—perhaps by the turbulent sea, perhaps by the Absurd Conquistador (Roy Johns) and a handful of complicit Neuro Nymphs (Nina Ameri, Marina Bakica, Nicole Burleson-Britton, Anna Lobell, and Delaina Mitchell). A crystal ball bridges the worlds, serving as means of communication and as weaponry.


Only Schulman appears on the stage—as Luminous suffers alone and interacts with the onscreen characters including himself—venturing back and forth between film and stage in long-rehearsed, quicksilver moves. He wears headgear (designed by Robin Walsh) that seems to represent the inner workings of the brain, with electrical currents and cogs. When Luminous first breaches the membrane—and Schulman the film screen—he takes unsteady toddler steps in an early, immature exploring. As the adventures and obstacles build, Schulman turns steady and powerful, the cog of the headgear now spinning, an attached light showing the way. The stage work (co-directed by Jane McEneaney) is part brilliantly evocative, part too repetitive; the wanderings and ins-and-outs start to grow less and less intriguing.


Luminous is told to open his heart with a key, metaphoric or otherwise. But his heart is opened for him, when he thinks he has lost Tangerine—or did we miss something else among the imagery that includes an oar marked tummler to prod him along? He stops shilly-shallying and reaches back into "real" life, and we appreciate that a crystal ball may not always show us the way but the loving brain will if we let it.


This is a fantastic exploration of mind and art. Perhaps with only a few reworkings and cuts, it can be flawless.
Presented by Greenway Arts Alliance at the Greenway Court Theatre, 544 N. Fairfax Ave., L.A.
April 3–May 10. Fri.–Sat., 8 p.m.; Sun., 4 p.m. (No performance May 8.)
(323) 655-7679, ext. 100, or www.greenwayartsalliance.org.