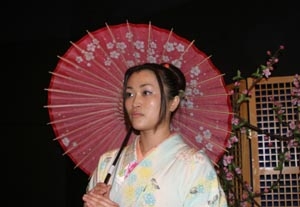 Stylistically precise, this production of theatrical impresario David Belasco's 1900 Broadway melodrama "Madame Butterfly," based on a story by John Luther Long, heralds director Aramazd Stepanian's obvious attention to production values. Quaint, often muted lighting by designer Azad Abed-Stephen illuminates a picturesque Japanese home. Traditional screens and floor mats are balanced by an armchair and side table representative of the European influence within this age-old story. The uncredited sound design surrounds the audience with occasional underscoring and naturalistic bird calls emanating from the outdoor-garden section of the stage.
Unfortunately, Stepanian's direction and the performances of some of his cast stand in glaring opposition to this otherwise idyllic mood. The production moves at a glacial pace, opening with a series of pantomimed scenes representing the backstory, in which a former geisha, Cho Cho San, marries and sets up house with American naval officer Lt. B.F. Pinkerton. This prologue drags on due to Stepanian's choice to accompany the sequence with a live performance of one of two arias from Puccini's opera version of this tale, delivered from a neck-craning upper balcony by singer Mayuko Miyata.
Things pick up a bit once the play proper begins, but even then there is a lack of forward motion. Kazumi Zatkin is charming in the title role, but Stepanian's decision to update Belasco's original pidgin English for her and the other Chinese characters belies a greater sophistication than was initially intended. Finely crafted performances are offered, however, by Sachiyo K, as Cho Cho's devoted maid; Jim Beaver, as the sympathetic American consulate official; and Alejandra Cejudo, as Pinkerton's American wife, who generously offers to raise her husband's biracial child.
On the other hand, Toshi Toda's mugging as an opportunistic matchmaker becomes quickly annoying. Both Daniel Park, as a local nobleman set on adding Cho Cho San to his stable of wives, and Michael Miller, as her long-awaited American love, deliver stilted performances of critically important cameo roles. The final impression is that this one-hour, one-act show could come into port at a much brisker 45-minute tempo.
Presented by CAPS Productions at Luna Playhouse, 3706 San Fernando Rd., Glendale. Feb. 3–24. Thu. and Fri., 8 p.m. (818) 618-2348 or www.itsmyseat.com.