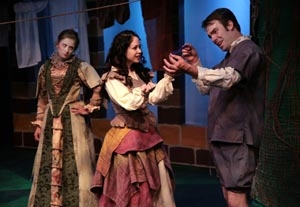 Spanish playwright Lope de Vega (1562–1635) sailed with the Spanish Armada, served as secretary to the Duke of Alba, and indulged in scandalous love affairs, even after becoming a priest. Somewhere along the way, he found time to write scores of plays, ranging from sex comedies to high tragedy.
Madness in Valencia
, seen here in a clever new translation by David Johnson, might be described as a knockabout farce, or a sort of Renaissance sitcom.
Floriano (Michael Holmes) has crossed swords with a rival and now finds he's wanted for the murder of the heir to the Spanish throne. With the assistance of his friend Valerio (Wil Bowers), he hides out in a lunatic asylum, pretending to be demented. Erifila (Vivian Kerr) has run away from home to escape an unwanted marriage, only to be robbed of her jewels and clothes by a lecherous, treacherous servant (Tyler Tanner). Stranded in her undies, she has a brief encounter with Floriano, and the two immediately fall in love.Then she, too, is carted off to the asylum. In the madhouse, things get complicated when all the males are smitten with Erifila, while all the ladies are in love/lust with Floriano.
Director Suzanne Karpinski provides a lively and colorful production. Holmes deftly lends a goofball streak to his handsome leading man. The women all offer strong performances: Kerr's Erifila is a closet spitfire in maidenly clothing. Laura Napoli shines as a woman determined to possess Floriano, and Juliet Angeli is her high-spirited servant and amorous rival. Brandon Clark spouts pompous pedantry as Dr. Verino, Craig Calman is appropriately peppery as the governor of the asylum, and Joseph Beck paints a satiric portrait of a lunatic who thinks he's Lope De Vega. Paul Byrne lends savoir-faire as a sort of aristocrat ex machina. They receive lively support from a clutch of Zanies.
Wesley Crain's inventive costume design combines handsome period pieces made of unlikely materials: a lavish gown made of camouflage fabric, a man's Renaissance outfit converted from a modern pinstripe suit for the aristocrats, and medical scrubs and matching bloomers and trunk hose for the lunatics.
Presented by and at the Sacred Fools Theater, 660 N. Heliotrope Drive, Hollywood.
May 22–June 27. Fri.–Sat., 8 p.m. (Additional performance Sun., 2 p.m., June 28.)
(310) 281-8337. www.sacredfools.org.