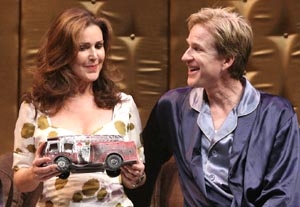 Theatergoers will likely leave Blair Singer's debuting comedy feeling that they've never seen anything quite like this Matthew Modine star vehicle before. Unfortunately, quirkiness doesn't ensure quality. Singer's haphazard blend of irreverent Hollywood satire, lowbrow burlesque tomfoolery, and Groundlings-style lunacy never sits still long enough to forge a distinct comic identity. This is an everything-but-the-kitchen-sink kind of show in which the plumbing has gone afoul. Director John Rando retains a zippy pace and the actors generally appear to be trying to have—and give—a good time, but the material mostly misfires.
The comedic hook is a real-life celebrity gamely making fun of himself, as Modine plays a fictionalized version of a once flourishing but now out-of-the-limelight movie star named Matthew Modine. Desperate to get his photo and name into the news media in the hopes of landing a role in a mindless but lucrative action flick—rather than starving in the netherworld of theater and indie films—he consults a supposedly high-powered publicist, Whimberly (Peri Gilpin). She initially snubs him until her flippant gay assistant (French Stewart) comes up with a wild suggestion: Make Modine a media darling by sending him to Ecuador on a mission to save the nearly extinct species of Chimborazzi alpacas. So off we go, where a loony trio of local tribesmen (sort of a Latin-American Three Stooges; played by Edward Padilla, Mark Damon Espinoza, and Reggie De Leon), large alpaca puppets that look like escapees from "The Lion King," a fast-talking United Nations ambassador (also played by Stewart), plus a shaman witch doctor and Modine's conscience (both played by Mark Fite) enter the frenetic fray.
The satire rarely cuts deeply, frequently settling for tiresome bathroom humor befitting a teen gross-out flick. Darker elements introduced toward the end are quickly glossed over. Modine is likable and a capable farceur, but the sophomoric script seldom fulfills the promise of a sardonic parody of his persona. Gilpin seems curiously detached as the aging Hollywood player, preserved in Botox. Stewart is at his zany best, sometimes transcending the limits of the material. The actors playing the tribesmen are also funny at times, and Fite makes the most of his two comic vignettes. But in the end, this fractured farce is much ado about practically nothing.
Presented by and at the Geffen Playhouse, 10886 Le Conte Ave
.,
Westwood. Sept. 16
–
Oct. 18. Tue
.–
Fri
.,
8 p.m
.;
Sat
.,
3 and 8 p.m
.;
Sun
.,
2 and 7 p.m
. (
310
)
208-5454. www.geffenplayhouse.com
.