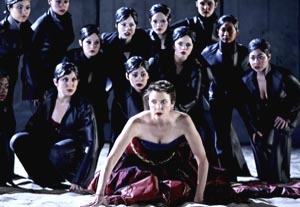 "It's natural for a woman to be upset," says Jason to Medea after he has left her to marry another woman. How's that for the understatement of the last 2,500 years? Richard Hoover's scenic design of sand, stone, and metal, timeless and magnificently neutral, frames director Lenka Udovicki's vision that is indeed timeless but in no way neutral. This version (translated by Kenneth McLeish and Frederic Raphael) makes real an archetypal story still played out in homes around the world.
Is that the noise of a daisy-wheel printer at the top of the production? Is it churning out a story to come? John Cleman's sound design is bone-shaking and soul-shaking. The Corinthian Woman who narrates, here a bag lady with wisdom, is played by Mary Lou Rosato, whose beautiful voice and enunciation sets the scene and sets the bar. Next comes a dazzling chorus of singing, dancing, acting women—sometimes militaristic, sometimes seductive, dressed in gunmetal vinyl but occasionally revealing blood-red velvet brassieres.
By the time Medea arrives onstage, we're primed for the thoughtful, the unusual, the startling. Annette Bening does not disappoint. Her interpretation is just extravagant enough, just muted enough. Medea's anger may be tightly wrapped, but Jason recognizes the danger signals. Bening delivers the "children, children" monologue, about why we have children, quietly rather than grandly. She has a malleable, relaxed voice, which enables her not only to be heard and understood but also to fill the cavernous Freud with characterization. Bjanka Adzic Ursulov has dressed her in a dark cloak over a blood-red velvet corset and billowing taffeta skirts. When Medea steps under a shower, fully dressed, to bathe and refresh herself, the costume seems to stay dry.
Angus Macfadyen is a sturdy Jason, who easily takes what Medea gives him— until the ultimate breaking point. When Jason begs to bury their murdered children, she pulls a rail cart bearing their little bodies up the hill and into the palace. The door closes behind them. When it opens again, down rolls the cart, the bodies in flames. If we're sickened, imagine how Jason feels. Daniel Davis is effective as Kreon, menacingly stalking his prey. In a lovely performance as Aigeus, Hugo Armstrong arrives in poliolike distress. Joseph Ruskin makes an imposing tutor. Logan Karlen and Jacob Karlen steadfastly concentrate as the boys.
At her curtain call opening night, Bening unashamedly showed her exhilarated, girlish relief at having merely gotten through the massive effort. She apparently had no idea how impressive she was, as was the entirety of this spectacular production.
Presented by UCLA Live at the Freud Playhouse, 245 Charles E. Young Drive East, Westwood. Sept. 23–Oct. 18. Tue.–Sat., 8 p.m.; Sun., 7 p.m. (310) 825-2101. www.uclalive.org.