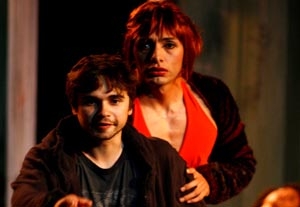 The word dystopia is too genteel. The characters say it more appropriately in this Philip Ridley play: They're living in a hellhole of a world, where brutality can be bought. Their drug of choice is the butterfly, which might have damaged these poor lads' memories. Or was that accomplished by familial abuse or large-scale warfare? Are we looking at a possible future? Or have we met the enemy and it is us?
The one-name Dado directs. She does herself equal parts solid credit and damage. What works is the world she creates, of careless dirtiness and vicious selfishness, with hopeful touches of tenderness and regard. She has also gathered a highly skilled cast and created a true ensemble evidencing realistic onstage relationships. But the choice to put some of the audience at the back of the stage leaves us noticing our fellow audience members and their reactions—or lack thereof. At best we're only distracted; at worst we're self-conscious and unable to feel immersed in our own reactions.
So, too, what's left to the audience's imagination is excruciatingly potent, particularly the sounds from and glimpses into an upstage room. But what is shown—the bloody results of the offstage actions and prolonged fighting on stage—jerks our thoughts back to acting technique and the otherwise well-done fight choreography by Camelia Poespowidjojo.
The impressive actors are extraordinarily energized—even those in drug-induced stupors—and use nonstop flawless low-class English accents (the contributions of dialect coach JB Blanc are duly noted). Playing baby-faced and, under it all, kindhearted brothers are Edward Tournier as the solicitous elder and Andrew Perez as the inquisitive younger. Jason Karasev plays the almost improbably naive neighbor, and Jeff Torres takes on the cross-dressing friend. A young Ryan Hodge is the stupefied victim—think party favor at a sexually twisted party. Nina Sallinen plays the blind, broken Duchess—think an upper class gone awry. Greg Beam and Kelly Van Kirk limn the adults who under "normal" circumstances should know better.
Tough to watch, this production is for those who could use the refresher course on repercussions of a cruel world.
Presented by Needtheater at the Imagined Life Theater, 5615 San Vicente Blvd., L.A.
May 29–June 28. Fri.–Sat., 8 p.m.; Sun., 5 p.m.
(800) 838-3006.