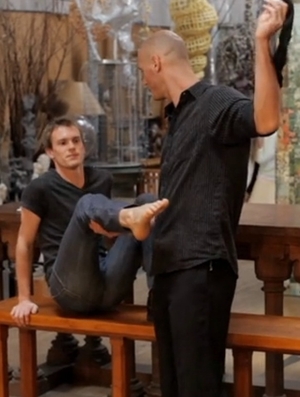 When one of Los Angeles' cheekiest theatrical auteurs decides to adapt August Strindberg's "Miss Julie" as the story of a lonely gay man in love with his valet, it would be difficult not to anticipate something special. Ken Roht's boundary-breaking "Miss Julie[n]" goes beyond special to brilliance. Presented in a drafty old Highland Park warehouse transformed into a bizarre counterculture art gallery that could have been created by Santo Loquasto on hallucinogens, Strindberg's classic is reinvented with multimedia extravagance.
The piece has been updated by Roht and playwright Erik Patterson from 1888 to 1905 and set on a plantation in South Carolina. The effeminate Julien alternately bullies and tantalizes John, his patiently enduring target from another caste, as a chorus of dancing townspeople and servants winds through the action, appearing behind and around the crowded shelves of eclectic folk art. Their presence infuses the tale with the voice of the conservative mores of the era, similar to those that polarized Strindberg's original audience, something accentuated by Erica Rice's striking period costumes boldly adorned with glitter, shimmering gold lame, and blue tendrils peeking from cloche hats.
As Julien, Jonny Rodgers is the perfect ethereal gay man caught in the net of society's stringent restrictions. The whispers of the villagers turn to drunken shouts of "Queer!" as they force their way into the home of Julien's father. Julien coyly purrs for John to forget any difference in their class, alternately commanding his servant to kiss his foot and meet his obnoxious demands. Dylan Kenin's sexually conflicted John is mesmerizing in his stoic simplicity, with a lack of emotion so profound that it's hard to take your eyes from him. If anything is missing, it might be fleeting moments of doubt for the lovers, lending a touch of vulnerability that would make them more human as their relationship swells and then crashes into disaster.
As Christine, John's rigid paramour mired in convention, Rice is gloriously simple in her choices, creating a woman overpowered by suspicion and unyielding religiosity. The presence of limber sprite Oscar Pereira as Malik—an enigmatic figure in a skeleton-patterned leotard winding through the action often while crouched on his ankles—is the epitome of Roht's signature inventiveness. Sometimes seeming to represent Julien's faithful dog, another homage to Strindberg, Malik sits at a funhouse mirror preening and caressing as John bends Julien over a nearby counter to consummate their forbidden ritual, then he paws the floor for escape from the room, frightened by where the sexual rite takes the lovers as they contemplate their future. Pereira is half Nureyev, half Harpo Marx, captivating as he wails a lilting a cappella ballad in Portuguese.
Roht conjures a striking visual decadence as he honors Strindberg's theme: the inequity of socioeconomic restrictions that catapult the characters into an alienating and destructive world. The sensational "Miss Julie[n]" offers an evening unlike anything you might expect, a sensual assault that's sure to haunt your dreams.
Presented by Orphean Circus, MorYork Gallery, and Firehouse Theater Company at MorYork Gallery, 4959 York Blvd., Highland Park. Feb. 21–March 10. (323) 515-2482 or www.missjulien.com.
Critic's Score: A+