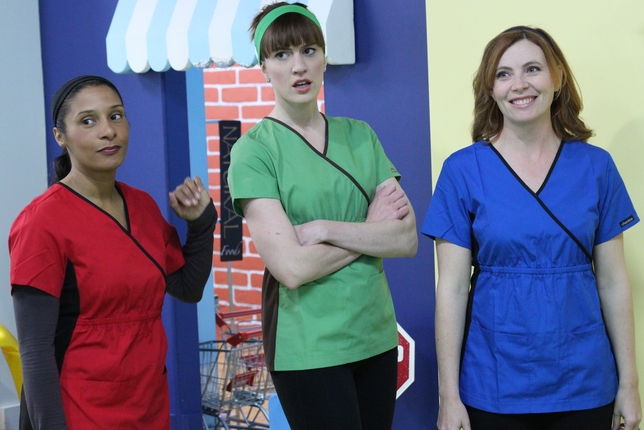 Sitting in the audience at Chalk Repertory Theatre's world-premiere production of "Mommune," you will find yourself surrounded by stuffed animals, sipping a juice box, and listening to the laments of some spirited women in colorful scrubs. It's a strange experience, but in many ways it doesn't push the boundaries quite enough.
"Mommune" begins as a parenting class: A woman hands out dolls to the audience and gives tips on supporting the baby's fragile head. It soon becomes obvious that she has a tense relationship with motherhood. As she begins to interact with her other colleagues, we realize that she is not an employee of a parenting school but a captive in a court-ordered treatment program for mothers who have made mistakes. In this futuristic world motherhood is a highly regulated position, and the penalty for getting something wrong is a long sentence in an artificially cheery mom commune.
While the concept is both creepy and creative, playwright Dorothy Fortenberry hasn't developed it to its full potential. If it were darker or weirder, the play could be a Margaret Atwood–style dystopian thriller. If it were funnier or more vulgar, it could be a biting satire on the world of mommy bloggers and parenting trends. As it is, it's awkwardly in between. The audience ends up laughing at serious moments and looking confused during scenes that are meant to be funny.
Director Larissa Kokernot has staged "Mommune" in an actual Sherman Oaks daycare center. It's a strong choice, and Kokernot's use of the space definitely gives the feeling that you're trapped in the mommune with the delinquent mothers. But beyond that her direction adds to the audience's confusion. The pacing isn't tight enough to hold the audience's attention. Many scenes are repetitive, emotional moments are forced and drawn out too long, and the proceedings continue on for almost two hours with no intermission.
In a nontraditional, audience-participation play such as this one, the actors have to be confident enough in what they are doing to make the audience feel at ease, but Kokernot's performers seem unsure of themselves, stepping on each other's lines and showing signs of needing more rehearsal. Still, even though they appear hesitant with some of the staging, the five cast members have capably developed their characters. As Lynne, a nervous mother hoping to be released from the mommune, Amy Ellenberger offers convincing anxiety. Hilary Ward is tough and defiant as new convict Charlotte. Ursaline Bryant is cool and intimidating as Mrs. Jensen, the mommune overseer. Cate Scott Campbell makes beauty-obsessed mom Trista bitchy yet sympathetic. Sofie Calderon plays mute parent Bree with amusing body language.
"Mommune" offers an unusual theatergoing experience with some original ideas and well-played characters, but before this parenting story is stage-ready, it has a lot more growing up to do.
Presented by Chalk Repertory Theatre at Pint Size Kids, 13323 Ventura Blvd., Sherman Oaks. March 1–April 7. (323) 379-9583 or www.chalkrep.com.
Critic's Score: C