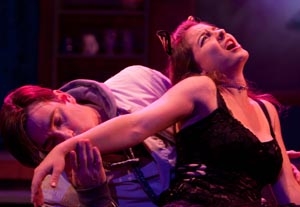 There are shades of George Orwell's classic allegorical novel "Animal Farm" in playwright Henry Murray's profound seriocomic fable of animals plotting a revolt against their brutal treatment by humans. The animal characters impart incisive reflections on the foibles, insecurities, and redeeming characteristics of people, underlined by our need for emotional connection. Director John Perrin Flynn delivers a production filled with viscerally enthralling effects and virtuosic performances.
The action, set in an unspecified year, begins in Le Café Café, presided over by motherly waitress Elaine Ostrich (Jennifer Taub), who is assisted by aphorism-spouting busboy Penguinito (Ron Bottitta). Among regular customers is the heart-on-his-sleeve pooch Brown Spot (Justin Okin, who alternates with David Mauer); Sonny Bonobo (Edward Tournier), the libidinous and fickle monkey who's the object of the dog's affections; and a flirtatious pussycat called Madeline Kahn (Amanda Mauer), a parody of the character Kahn played in "Blazing Saddles." Soon entering the scene is the rebellious James Rat (Patrick Flanagan), drawing Sonny into a daring scheme to thwart inhumane experiments being conducted on animals by human scientists.
The actors bring out the story's scintillating wit and tragic undercurrents. The play explores timelessly resonant themes: the injustices of totalitarian rule, tolerance for fellow creatures, and the mysteries of genetic evolution and romantic attraction. In the focal roles of the noble canine and his would-be paramour, Okin and Tournier offer sterling portrayals, each actor deftly segueing between sly humor and steadily escalating pathos. Taub and Bottitta are very funny as the dutiful servers who take more than a passing interest in their customers' travails. Flanagan is superb as the rascally rodent masterminding a daring attack against the oppressors, and Mauer has fine moments as the sultry feline chanteuse, though Murray would be well-advised to delete the character's distracting speech impediment, which is written into the script.
Sealing the deal in this ambitious world-premiere rendition are awe-inspiring designs—including Adam Flemming's huge back-wall projections, David Combs' and Linda Hoag's puppets, Stephanie Kerley Schwartz's set and costumes, Joseph Slawinski's sound, and Michael Welles' original music. These elements create an ethereal ambience brimming with wonderment and food for thought.
Presented by and at Rogue Machine, 5041 W. Pico Blvd., L.A. Oct. 8-Nov. 20. Fri.-Sat., 8 p.m.; Sun., 3 p.m. (855) 585-5185. www.roguemachinetheatre.com.