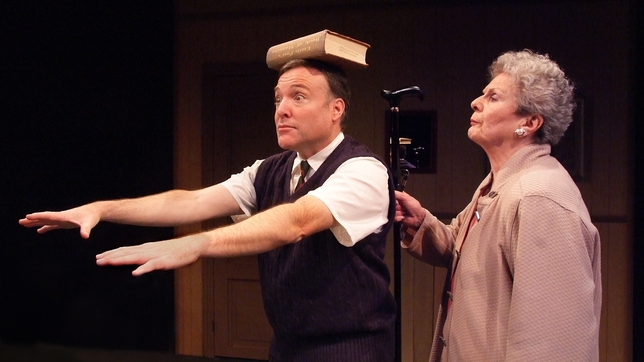 "Mrs. Mannerly" is the semi-autobiographical story of playwright Jeffrey Hatcher's childhood in 1960s Steubenville, Ohio. The plot mimics stories by humorists David Sedaris or Daniel Pinkwater. Young Jeffrey is a misfit little boy who wants nothing more than to be good at something, and he finds his unlikely niche at etiquette school. Mrs. Mannerly, his instructor, is a refined lady with a dedication to social climbing and Emily Post in spite of her humble upbringing. The two butt heads at first, but eventually form an unusual friendship.
Richard Horvitz makes this show. As the precocious 10-year-old hero, he performs with childlike energy and a squeaky, eager voice. His Jeffrey feels so authentic that it's easy to forget the actor is middle-aged. In addition to Jeffrey, Horvitz plays almost every other character in the play. Horvitz is an accomplished voice-over actor who shows off his impressive vocal flexibility as he switches between the roles of Jeffrey's friends and classmates. A dance lesson scene in which Horvitz simultaneously portrays a hip-shaking teenage girl and her clumsy little boy partner is one of the show's most amusing moments.
Nan Tepper is dignified and solemn as Mrs. Mannerly, yet she never displays the dramatic flare or hint of mystery that the script implies in the character and misses several laughs as a result.
Director Robert Mackenzie's stiff staging makes his production's pacing too slow for comedy. Jeffrey and Mrs. Mannerly spend their first long scene together sitting across the stage from one another—killing any opportunity for the physical comedy that might arise between an annoying little boy and a proper old woman. And when Horvitz takes on the persona of Kim, a snobby little girl trying to show off her table setting abilities, Mackenzie puts the table at the back of the stage with the actor turned away from the audience, obscuring any humorous action from view.
The technical elements here are also undercooked. Costume designer Michele Young puts Jeffrey in an appropriately nerdy sweater-vest, but clothes Mrs. Mannerly in a shapeless outfit that does little to contribute to the uptight woman's character. The set, by design consultant Jeff G. Rack, is ambiguously designed—too minimalist in some areas, overdone in others. None of the fancy china or elegant curtains that the characters describe are present on stage, and what few set pieces there are are aesthetically distracting. A rolling plastic office chair is the central set piece and prop in the show, but is anachronistic to its 1967 setting.
Mrs. Mannerly might say that it's poor etiquette to dwell too much on flaws, though. This play, if not perfect, is light and sweet, and Horvitz's lively performance makes it enjoyable.
Presented by Theatre 40 in the Reuben Cordova Theatre at Beverly Hills High School, 241 S. Moreno Dr., Beverly Hills. Nov. 15–Dec. 15. (310) 364-0535 or www.theatre40.org.
Critics Score: B-