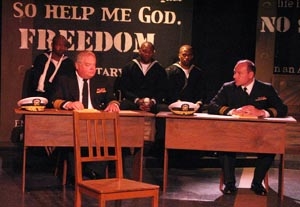 Given the gravely momentous subject matter, this production fails to communicate the import of the proceedings. Playwright Paul Leaf, who also directs, reportedly based his script on the Navy file covering the trial of 50 black seamen charged with mutiny during World War II. The episode is undeniably rife with racism, but Leaf has simplistically fashioned this promising story into one about "the good guys versus the bad guys" that lacks subtlety.
The evening is a re-creation of a little-known historical event. The setting is California's Port Chicago Naval base on the Sacramento River. Black sailors, considered unfit for combat duty by the bigoted Navy brass, are assigned to load ammunition onto ships docked in port. These sailors have virtually no training for their job and are under the command of white officers who are making bets on which divisions can do the work the fastest.
On the night of July 17, 1944, there is a cataclysmic explosion. Most of the dead and wounded are African-American sailors, and those who are uninjured perform the gruesome task of cleaning up the body parts and corpses. Ultimately, the terrified sailors refuse to continue loading the explosives. Fifty of them are court-martialed for mutiny and tried by an obviously biased tribunal. After some 80 minutes of deliberation, the court finds all the men guilty and sentences them to long prison terms. Thurgood Marshall and Eleanor Roosevelt take up the men's cause, and the prisoners are eventually released, but the Navy refuses to reverse the convictions.
Though the story is incendiary, the play never quite catches fire. Two performances, however, come to the fore. Maury Sterling as the defense attorney comports himself with the requisite military demeanor and is, by turns, sincere, restrained, and frustrated, with just a hint of outrage. J. Teddy Garces as Seaman Edward Little, a defendant and natural-born leader, conveys intelligence and rationality, making his character sympathetic but not a quintessential victim.
This piece of history deserves a more forceful, nuanced dramatization than it gets in its current form.
Presented by and at Ruskin Group Theatre, 3000 Airport Ave
.,
Santa Monica
.
July 10
–
Aug. 15. Fri
.–
Sat
.,
8 p
.
m
.;
Sun
.,
2 p
.
m
. 
(
310
)
397-3244
.
www
.
ruskingrouptheatre
.
com
.