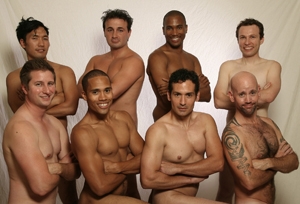 In a strong season for gay-oriented fare, the climate seems ideal for a revisit to conceiver-director Robert Schrock's spirited nudie revue. Schrock premiered this piece at Hollywood's Celebration Theatre in 1998, then moved it to Off-Broadway, where it's still running. A new cast is assembled for this staging.
The material (by multiple writers) remains unchanged, except for one added song. This talented cast brings fresh sensibilities to the melodic and witty numbers, which sound great under the helm of music director–accompanist Gerald Sternbach. Though the show is no longer a groundbreaker, its entertainment value remains undiminished. The nudity ultimately takes a back seat to the strong material and accomplished performances. Including numbers ranging from bawdy to poignant to romantic, the revue depends on the wit and sense of fun that performers bring to it, and the current troupe delivers the goods. It takes moxie—plus courage—for actors to bare it all throughout an entire show, and this group seems fully comfortable with the naughty playfulness.
Shrewdly starting out in a self-parody mode, the ensemble sings about "Gratuitous Nudity, " letting us know cheeky humor is in store. There's another terrific group number, "Jack's Song," for which the wonderful comic gag is best kept a surprise. In "The Naked Maid," nimble farceur Jeffrey A. Johns spells out the tribulations of an unusual freelance job. "Perky Little Porn Star" features charismatic Jack Harding amusingly relating the experience of a repressed Midwestern youth finding an unorthodox film career. Marco Infante pays thoughtful homage to rugged screen stars of yesteryear in "Robert Mitchum." Eric B. Anthony parlays "The Entertainer," a paean to gay icons, into a showstopping vignette. Timothy Hearl excels in "Nothing but the Radio On," about famous actors who have performed nude. The tone shifts to rueful in Tony Melson's heart-rending delivery of "Kris, Look What You've Missed" and the duet "Window to the Soul," beautifully shared by Victor Tang and Daniel Rivera.
If there's any carping, perhaps it's that the 75 minutes of fun ends much too quickly. And that's the long and short of it.
Presented by Macha Theatre/Films–Odalys Nanin and Tank Productions at the Macha Theatre, 1107 Kings Road, West Hollywood. Sept. 25–Nov. 22. Thu.–Sat., 8 p.m.; Sun., 7 p.m. (323) 960-4424. www.plays411.com/nakedboys.