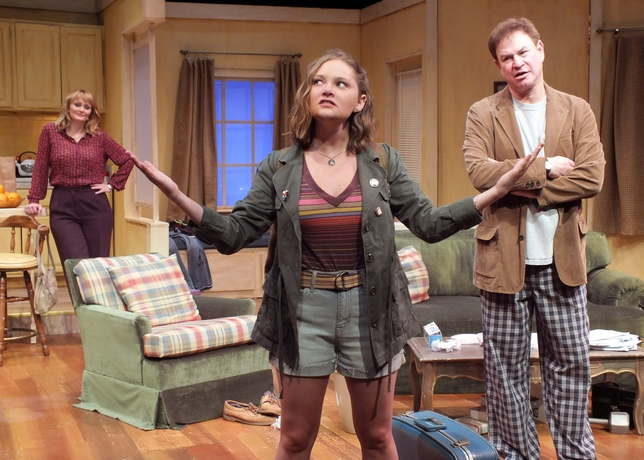 Though "I Ought to Be in Pictures" is one of Neil Simon's lesser-known works, it ran for a respectable 324 performances when it debuted on Broadway in 1980, after a tryout the previous year at the Ahmanson Theater in Los Angeles. The play contains many of Simon's signature touches, and its depiction of dysfunctional family dynamics and troubled relationships is still timely. The 1982 film version—starring Walter Matthau, Ann-Margret, and Broadway originator Dinah Manoff—was a little gem. If the one-liners for which Simon is famous are not quite as sharp as those in his more noted plays, they are nevertheless gently amusing, and the difficult father-daughter relationship at the core of the story is potentially heartfelt and touching. What a pity, then, that the current production at the Falcon Theatre is such a lackluster, badly directed effort.
The action is set in the unkempt West Hollywood apartment of struggling screenwriter Herb Tucker (Robert Wuhl). As the play begins, Herb's girlfriend Steffy (Kelly Hare) answers the door and is confronted by his teenage daughter, Libby (Genevieve Joy), whom Herb hasn't seen since he walked out on her, her mother, and her brother 16 years earlier, in Brooklyn. Libby is a wisecracking, demanding, resourceful, and seemingly overconfident 19-year-old who states that she has come to Hollywood to be an actor and expects her father to help her, because he "owes her." She assumed he was successful and well-connected, but as she surveys her surroundings she says, "I live this good in Brooklyn."
It quickly becomes apparent that while Libby seeks connection, Herb is unable to commit. After three failed marriages, his affair with Steffy is a casual one, and he no longer plugs away at his writing. At one point he even skips a pitch meeting to go to the races because he had nothing prepared. As the story progresses, Herb draws closer to his daughter, whose deepest needs and underlying reason for coming to see him emerge.
One of this production's main flaws is the superficial interaction between Wuhl and Joy. Too often they seem to be talking at each other rather than to each other, so that their work emanates primarily from the surface. Director Gregg W. Brevoort has neglected to explore the characters' inner life with his actors. Joy performs on one note from beginning to end, with no subtlety and no hint of her character's vulnerability. The play's impact rests heavily on Libby's appeal to the audience, but as interpreted by Joy in such an unvarying, strident manner, the character is more off-putting than endearing.
To a lesser degree, Wuhl also exposes little of what is driving his character. The actor is somewhat amusing, but the role of Herb cries out for a sardonic, world-weary approach that Wuhl has not achieved. Hare fares better as the lover who wants a more stable relationship, projecting warmth, likability, and a down-to-earth wisdom.
Jeffrey McLaughlin's set design warrants mention for skillfully conveying the conditions of Herb's life.
Presented by and at the Falcon Theatre, 4252 Riverside Dr., Burbank. Oct. 19–Nov. 11, (818) 955-8101 or www.falcontheatre.com. Casting by Lisa London and Catherine Stroud.
Critic's Score: D