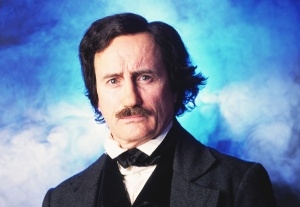 What's mysterious here is how this production can veer back and forth between puzzlingly bad and absorbingly good. In this one-person show written by Dennis Paoli, Jeffrey Combs plays Edgar Allan Poe, a writer of 19th-century America's macabre poems and short stories, an early orphan, an early widower, and a reputed alcoholic. Combs certainly makes himself look like Poe. But how carefully the actor has embodied him or whether he even offers his audience an essence of the man is left sadly in doubt by Combs' generalized acting, apparently given free rein by director Stuart Gordon.
Paoli starts Poe onstage in a recital format. Poe alternately tells the audience bits about his life and begs our permission—and applause—to recite his works. Poe points out a special guest, poet Sarah Whitman, in the audience; but no actor playing said character is there, which fact doesn't stop many audience members from turning to try to pick her out from among the crowd—repeatedly over the course of the evening.
Combs affects a quavering, whispery voice. His Poe is a caricature of a falling-down drunk, even taking a tumble off the stage. Over the majority of the show's 90-minute running time, Combs recites
The Tell-Tale Heart
, "The Raven," and "Annabel Lee," among others of Poe's writings.
But amid the elements that don't work, Combs shows us the heart of a heartbroken man, abandoned by so many, child of a reportedly alcoholic family, a loser in love. These are the less-showy moments, the times when Combs is not "acting" but just "being," when he reveals rather than pushes. Yes, the show might be an attempt at being Gothic, but if so, it needs more flat-out stylization. There's no room for halfway in
Nevermore
.
Presented by and at the Steve Allen Theater, 4773 Hollywood Blvd
.,
L.A. July 12
–
Aug. 2. Fri
.–
Sun
.,
8 p.m
.  (
800
)
595-4849. www.steveallentheater.com
.