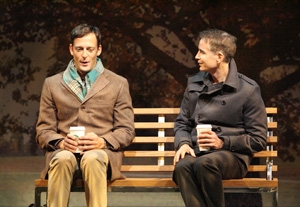 Geoffrey Nauffts' bittersweet love story explores the challenges we sometimes face in honoring the emotional needs and spiritual beliefs of our loved ones. Flashing back and forth during a five-year period, Nauffts' narrative gives an incisive view of well-intended humans hurting those we care for the most. Religion and sexual identity are among the primary points of contention as a group of friends and relatives in a hospital waiting room in Manhattan await the prognosis of a young man who was critically injured. Director Sheryl Kaller elicits multilayered performances. Marked with sensitivity and grace, this West Coast premiere rendition is alternately hilarious and heartbreaking.
The opening hospital scene is followed by a flashback to five years prior. Aspiring 25-year-old actor Luke (James Wolk) instantly falls for neurotic underachiever Adam (Nauffts), a 40-year-old substitute teacher, and a romance ensues. Adam is an avowed atheist. Luke, a devout Evangelical Christian, radiates humor and warmth but is extremely serious about matters of faith and the afterlife. Their initial low-key skirmishes over differing religious views become more heated over the years. In a flash-forward to the hospital, Luke has been injured in a taxi accident and remains in a coma. Convening there for a vigil are Adam, Luke's divorced parents (splendid performances by Lesley Ann Warren as uppity Southerner Arlene and Jeff Fahey as fundamentalist homophobe Butch), Adam's close friend Holly (funny Betsy Brandt), and Luke's friend Brandon (the fine Ken Barnett). It becomes clear that the pressures society places on Luke and Adam's relationship are just as ruinous as the couple's ideological differences.
Nauffts and Wolk share a sparkling chemistry in the droll romantic-comedy exchanges of their early scenes, as well as in subsequent segments in which tensions escalate. Nauffts' portrayal is further enriched when the nebbishy Adam shows more strength, asserting his spousal rights at the hospital. This is particularly evident when a decision must be made on the possible removal of  Luke's life-support devices. Excellent design elements—Wilson Chin's fluid sets, Kate Bergh's costumes, and Jeff Croiter's lighting—provide a credible and atmospheric environment for this engrossing production. Nauffts' lovely play combines timely personal issues and political themes, eliciting profound reflections that linger long after the last fadeout.
Presented by and at the Geffen Playhouse, 10886 Le Conte Ave., L.A. Nov. 2-Dec. 4. Tue.-Fri., 8 p.m.; Sat., 3 & 8 p.m.; Sun., 2 & 7 p.m. (310) 208-5454. www.geffenplayhouse.com.